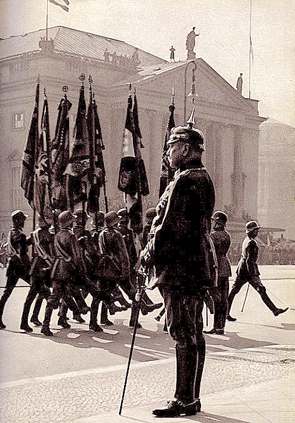 On March 6th, 1919 a new German armed forces was formed through official German decree known as the Vorläufige Reichswehr, or Provisional German Defense Force. The Provisional German Defense Force consisted of the Vorläufige Reichsheer and the Vorläufige Reichsmarine. Many Freikorp units served partly or entirely as the basis of the Vorläufige Reichsheer which consisted of about 400,000 men in nearly 50 Brigade sized units.
The Treaty of Versailles limited Germany to 100,000 soldiers and there was no conscription (draft) permitted. The German navy was limited to 15,000 men, twelve destroyers, six battleships, six cruisers, no submarines or aircraft..
The first challenge to the Weimar Republic came when a group of communists and anarchists took over the Bavarian government in Munich and declared the creation of the Bavarian Soviet Republic. The uprising was brutally attacked by Freikorps, which consisted mainly of ex-soldiers dismissed from the army and who were well-paid to put down forces of the Far Left. The Freikorps was an army outside the control of the government, but they were in close contact with their allies in the Reichswehr.