1918 DWM Death Head
PHOENIX INVESTMENT ARMS - PREMIUM COLLECTOR LUGERS
Genuine German Luger - Largest Variety of Lugers Offered

Home | Post WWI DWM | Erfurt Lugers | Mauser | Simson Suhl | Krieghoff | Vickers, Ltd | Swiss Bern | Other Guns
Bottom of Page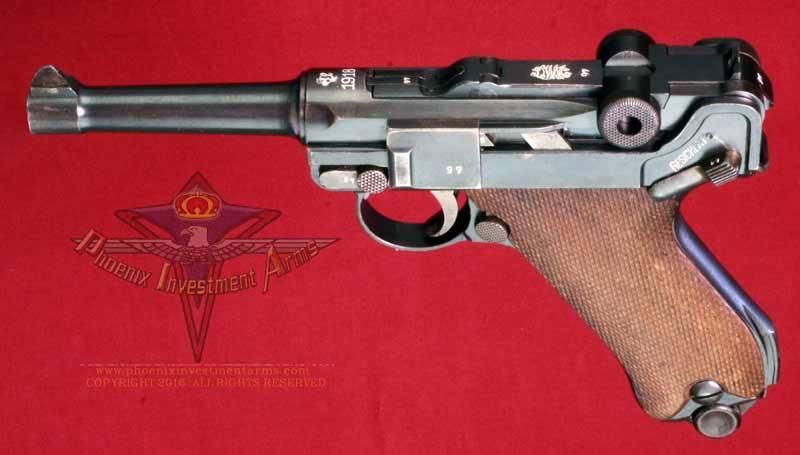 This is a 1918 dated DWM Model 1908 Parabellum that has been enscribed with the early Death Head that has been attributed to the early Storm Troopers, the Flame Thrower soldier, the Werewolfs of the Intra-war period and the early Weimar Freikorp Werewolf units. Much of the legend is antidotal but most is a summation of events. (1444)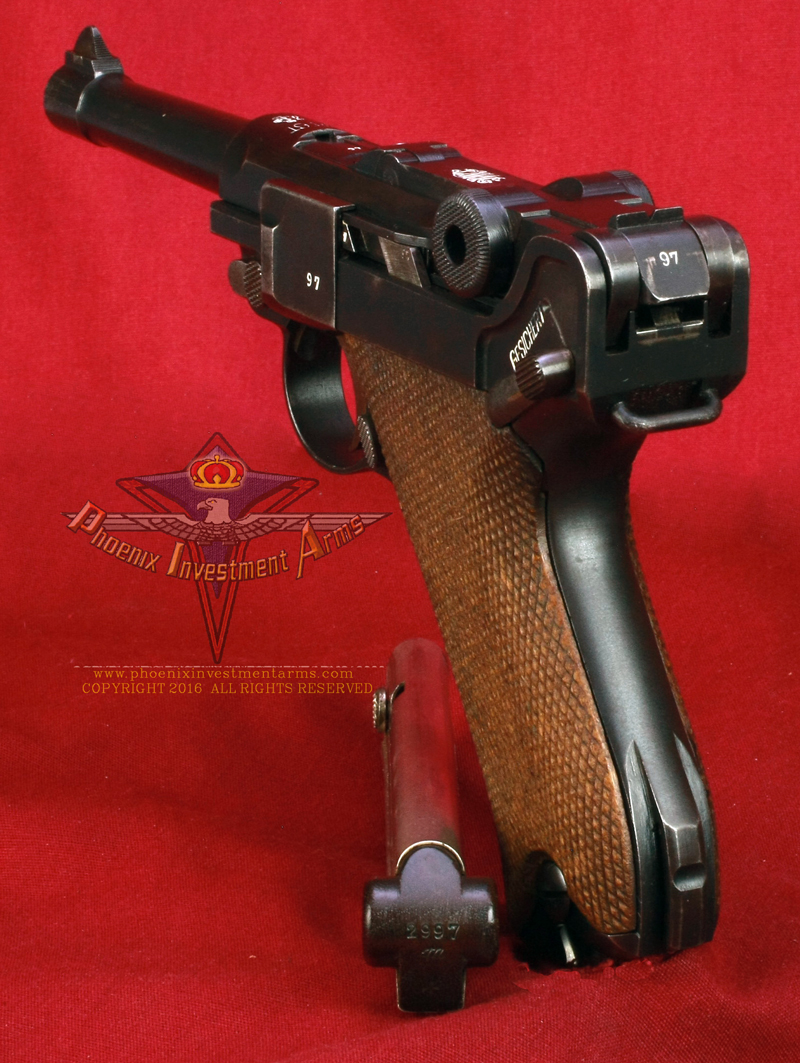 NOTE: Photographs taken today with the high mega-pixel camera show more than we sometimes can see with the human eye. Magnified close-ups show us tool marks and natural surface conditions that one normally doesn't see in the ordinary handling of the weapon. Photographs are copyrighted, all rights reserved, any extraction, reproduction or display of gun pictures without the express consent of the Phoenix Investment Arms is strictly prohibited. Thank you for your cooperation. Please visit Legal (tabbed) for Conditions of Sale.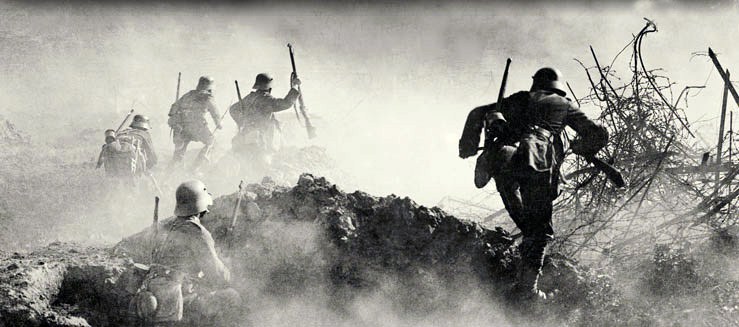 The Death Head and the Werewolf are ancient myths from the 1100's concept of half-man/half-wolf. The Death Head symbol in the German military as light calvary from the Hungarian Region and led by Field Marshall August von Mackensen.
At first glance this looks like a standard 1908 Model with the short frame, short sear and marked in the military (exposed) positions. However we quickly see there are no Imperial or commercial proofs.
This parabellum has seen service and is in excellent condition for a carried handgun with expected wear on the end of the muzzle and side plate.

The bottom of the gun is clean showing the serial number under the barrel and that includes the magazine bottom. On the top yo see the Death head with the Lazy "S" which is believed to be adopted by the Flamethrower Storm Troops to represent their hose.

These begin to appear on 1915 dated and then are most prominent on the 1917 and 1918 dated DWM.

From research over the years we have learned that deliveries of the Parabellum stopped on or about November 9, 1918 when the German Imperial government abdicated and DWM was in the "k" suffix and "l," was just beginning. They continued production until they ran out of coal in late December and there were approximately 5,000 post-war guns a month being produced. The lack of any Imperial proofs tells us that this gun was not inspected by the Imperial (Crown) inspectors and there was no DWM final acceptance proof.

Above Right: The matching magazine with the suffix "m". No Crown "N", No "Germany" or other export marks. The absence of any inspection stamps tells us that clearly manufactured and sold for internal use. The absence of Weimar proofs which began when formal production commenced in the 1920's. These were truly unique products of Post War history.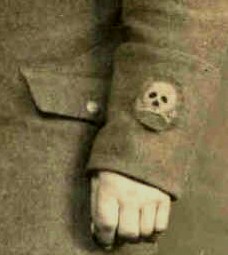 The Death Head introduced during WWI was the full head (skull) with cross bones. Fresh troops, not assigned to any unit were brought in to spearhead the German infantry during the winter of 1914-1915: The Shock troops (Stosstruppen), fresh infantry groups that were never officially recognized as such and never belonged to any permanent unit, but remained active until the end of the war and contributed improving the offensive capacity of the German infantry. Led by flame throwers with the Kleinflammenwerfer they rushed the opposing lines to punch a hole through which the regular troop flowed. The deathhead continued to be used by Prussian & Brunswick forces until 1918.
The absence of the Crown Inspection Proofs and the DWM final proof tells us that this gun was produced after the end of the war. There are no Crown "N" commercial proofs under the barrel on the left of the receiver or on the toggles or breach block tell us that it was produced before the official start up of the Weimar firrms acquisitions.

A close-up of the Death Head shows us that the design is basically rudimentary and not the type of work of either DWM or Erfurt. More probably this was a pantograph that was applied after acquisition and a tradesman provided this service of adapting the insignia.

No Crown "N" proof which was i initiated in 1911/1912 as the mark of acceptance for all non-military guns points us to the complete walk out of the Imperial inspectors between November 9th with the fall of the government and December 20th, 1918 when all production ceased at the DWM plants. After providing the necessary guards DWM began operations again in early 1919 with an Allied requirement that all military production cease by October 19, 1919.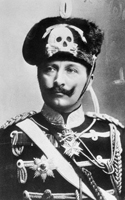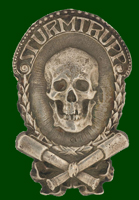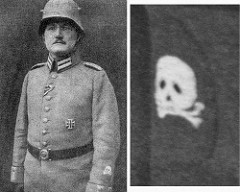 Above are pictures of Kaiser Wilhelm wearing the Death Head, the badge of the Storm Troopers, and Captain Willy Rohr who commanded the first Sturmtrupp battalions employing the flamethrower assault forces at Ypres on July 30th, 1915. Below a post war Freikorps unit displaying the Imperial Flag, the Werewolf flag and Death Head sleeve patches.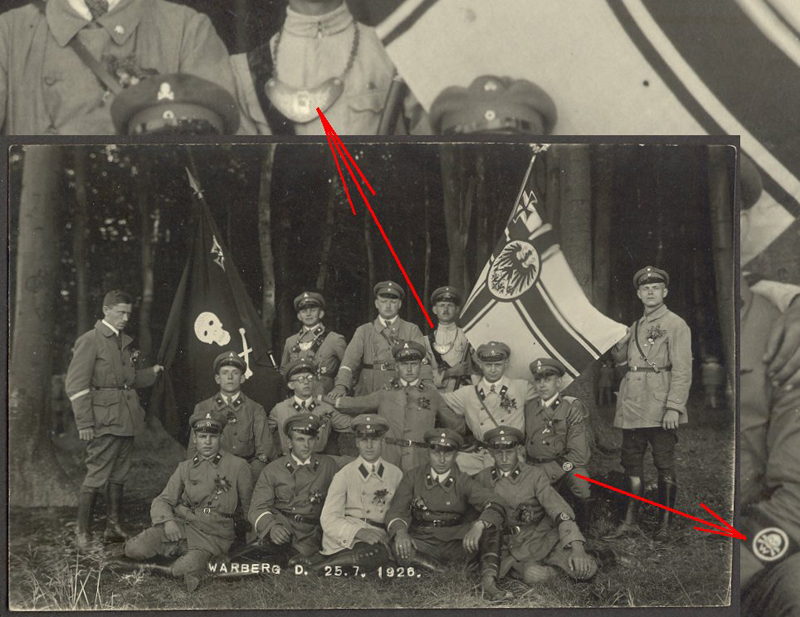 In the interim from the December plant closing until pre-IMKK inspectors in January 20, 1920 Germany was a period of producing as many guns possible with the 100mm barrel from all the parts left over from the Imperial war time production. With a contract for 15,000 Reichswehr (new formed Weimar army) Parabellums and guns for the German police which was a method of non-counting production for the Police.

T
T
With Germany's defeat after WWI private armies developed amongst returning veterans known as the Freikorps or "Free Corps". These private paramilitary groups first appeared in December 1918 when communists were hoping for a Soviet style revolution. Composed of ex-soldiers, unemployed youth, and other discontents and led by ex-officers and other former military personnel, they proliferated all over Germany in the spring and summer of 1919 and eventually numbered more than 65 corps of various names, sizes, and descriptions. Most were nationalistic and radically conservative and were employed unofficially but effectively to put down left-wing revolts and uprisings in Berlin, Bremen, Brunswick,Hamburg, Halle, Leipzig, Silesia, Thuringia, and the Ruhr. They fought miniature wars and sometimes resorted to plunder and terror.

These units form paramilitary units adoption various insignia including the most prevalent the death head of WWI and the "W" of the Werewolf units. There is much sentiment that these "rouge" units saved Germany from the post war chaos and imminent take over by Soviet style communism. Originally praised by General Paul von Hindenburg and then tolerated soon declared a nuisance and a threat, and their activities were eventually supplanted by regular army and police work or assumed by the new units of the Nazis and other political parties. As they were assimilated so to were their weapons these veterans brought with them from WWI and post war.
T
T
T

It is entirely subjective to give any firearm a rating of excellent or fine, just as it is to declare it xx% blued or strawed. Few collectible weapons are out of the box new and these are premium priced. Bluing percentages is like Beauty, in the eye of the beholder. We strive to provide pictures so you can judge for yourself if the gun meets your criteria. Any

questions or request for additional purchases email to josef@phoenixinvestmentarms.com. This firearm is eligible for transfer to C&R permit holder, even in California. We are registered with CA DOJ for firearms shipment.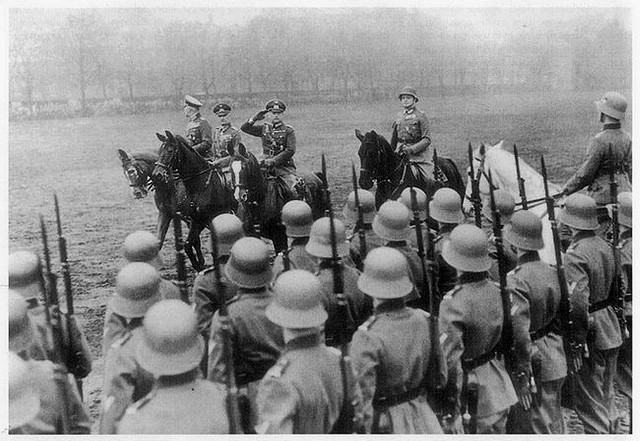 On June 28th, 1919, Germany signed the formal Peace Treaty sealing the previous armistice of November 11th - this was the well known Treaty of Versailles. According to the treaty Germany was allowed a standing armed forces of 100,000 men. This new and highly regulated force was to be known simply as the Reichswehr which was officially formed on January 1st, 1921. It consisted of the newly named Reichsmarine and Reichsheer. The Reichsheer consisted of 2 Group Commands, 7 Infantry Divisions and 3 Cavalry Divisions. The Reichswehr and Reichsmarine would exist until 1935 when the WWII-era Wehrmacht was formed.
Home
|
New Additions
|
1900-06
|
WWI Imperial
|
Carbines
|
Artillery
|
Imperial Navy
|
Police Models
|
Archived Lugers
|
Accessories
Sell Your Gun
|
Notices
|
Good Info (C&R)
|
Ordering
|
Contact Us
|
Gun Shows
|
Legal Stuff
|
Testimonials
|
Notices
|
Holsters
|
Books
Top of Page
LAYAWAYS: Sometimes our "significant other" doesn't understand the beauty, craftsmanship and investment potential of one of these investor grade weapons. In these circumstances where discretion becomes the better part of valor we will accept layaways of up to one year with at least 20% down and some activity occurring monthly to insure that after one year the sale is completed. Cancellations of layaways forfeit 33% if done within two months, otherwise 100%. You can transfer a layaway to a consignment sale at any time. See "Legal" for exact terms.
3 Day Return Policy
We honor a three day return policy. We will answer any questions, send you any pictures, as detailed as you want, to insure that what we are showing you is what you want to see, before you buy it. See Legal.
FIRING ANY WEAPON NEGATES ANY CHANCE OF RETURN!
WARNING: We do not represent these guns as safe to fire. They are not test fired before sale; they are sold as collectibles only. Prior to firing you should have it inspected by a qualified individual and abide by all safety requirements.
Genuine Lugers Sales - Luger History - Luger Accessories - Luger Holsters - Parabellum
© Copyright 2001-2016 Phoenix Investment Arms Inc.