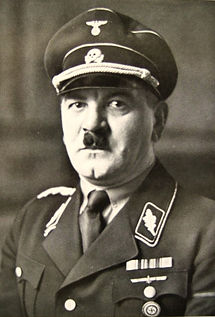 In the early days of the NSDAP, Julius Schreck, (Left) the leader of the Stabswache (Adolf Hitler's bodyguard unit), adopted the Totenkopf to his unit. This later grew into the Schutzstaffel (SS), which continued to use the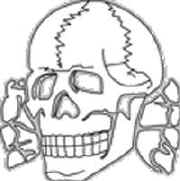 > Totenkopf as insignia throughout its history. As they had done with the Swastika, and the "Stechschritt" (Goose-Step March): the Nazis adopted the Totenkopf from the historical tradition and used it for their own purposes, leaving it marked with a stigma that has continued to the present day.
It is important to note that the SS "Death's Head" symbol has some differences to the original German (Prussian) Totenkopf, the original being much more archaic in appearance (see images above), with the SS version appearing more realistic. Moreover, the Prussian Totenkopf could face left or right in half-profile, but usually it was shown en face. The SS Totenkopf, on the other hand, was always facing left in half-profile.
The SS Division Totenkopf was formed in October 1939. The Totenkopf was initially formed from concentration camp guards of the 1st (Oberbayern), 2nd (Brandenburg) and 3rd (Thüringen) Standarten (regiments) of the SS-Totenkopfverbände, and men from the SS-Heimwehr Danzig. The division had officers from the SS-Verfügungstruppe (SS-VT), of whom many had seen action in Poland. The division was commanded by SS-Obergruppenführer Theodor Eicke. Through the Battle of France the division was generally equipped with ex-Czech weapons.