Archived-NOT FOR SALE
1936 Simson "S" Code
PHOENIX INVESTMENT ARMS - PREMIUM COLLECTOR LUGERS
Genuine German Luger - Largest Variety of Lugers Offered
Home | Post WWI DWM | Erfurt Lugers | Mauser | Simson Suhl | Krieghoff | Vickers, Ltd | Swiss Bern | Other Guns
Bottom of Page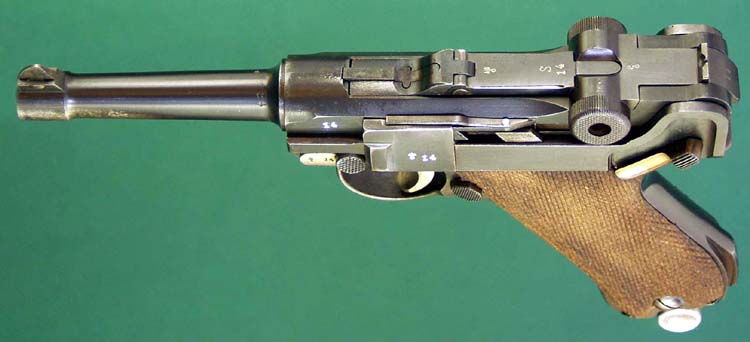 This is a 9mm Parabellum manufactured by Simson & Co., with the 100mm (4") Barrel. This Luger is acknowledged by collectors to be the most rare of the Simson Lugers. Said to be the last of the weapons made by Simson prior to take over by the Nazis. This is a police model with all the proofs of the Simson and police markings.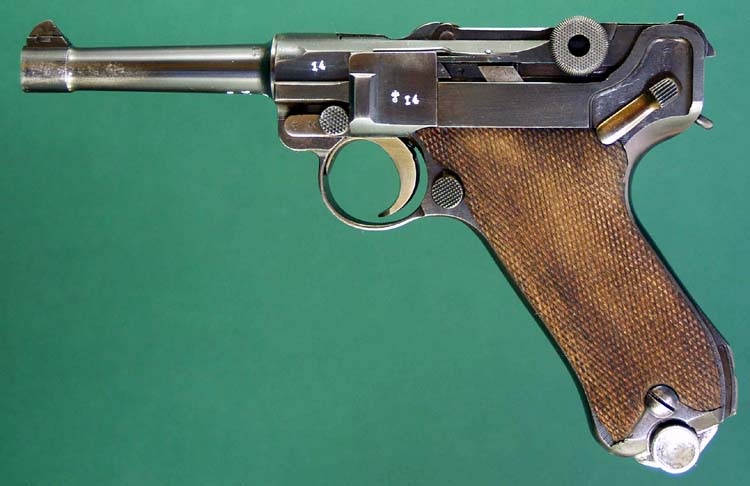 This "S" (1936) Coded Simson has all the Eagle/6 Simson 1st & 2nd proofs plus acceptance marks. The Eagle proof indicates that new manufacture. The first toggle link is marked with the Gothic "S" monogram and the rear toggle is also proofed and serial numbered to the gun. There is the "V" rear sight on the last toggle link and it has a stock lug.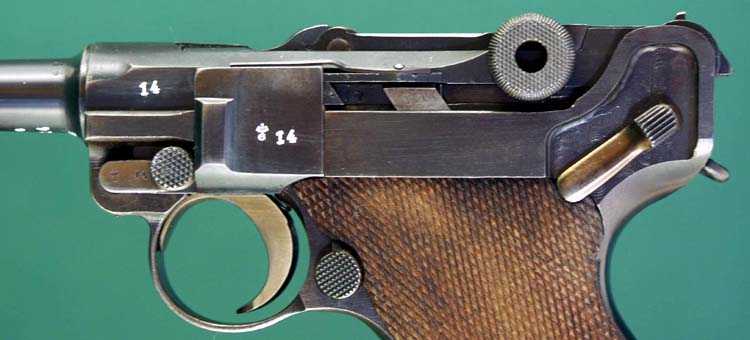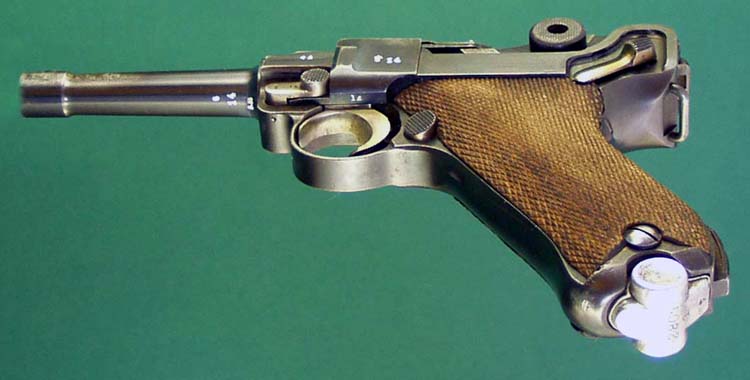 The extractor is marked "Geladen" on the left side and the safety is marked "Gesichert" with the safe position being downward.
The serial number appears on the front of the frame, on the left side of the receiver, under the barrel and the last two digits on most small parts. All serials match including a matching magazine.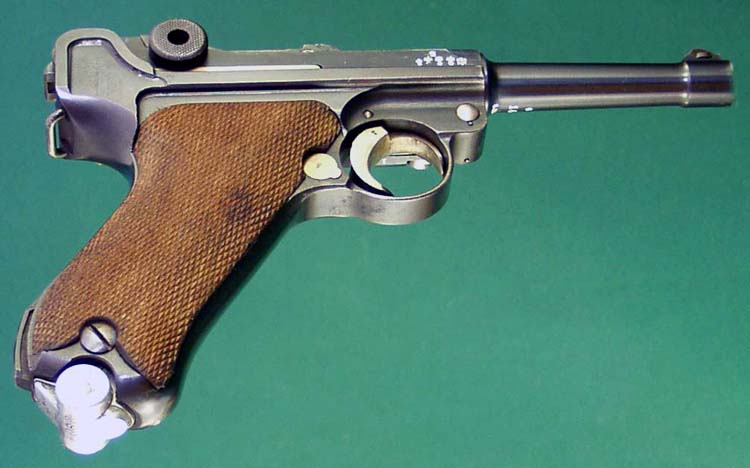 There are inspector marks all over the weapon in a variety of eagle stamps. Most prominent is the Eagle 6 Simpson Military First Inspection proof. The Weimar acceptance proof (Eagle) on the receiver and barrel are for new production guns. Proofs on breach block, barrel, trigger and magazine release.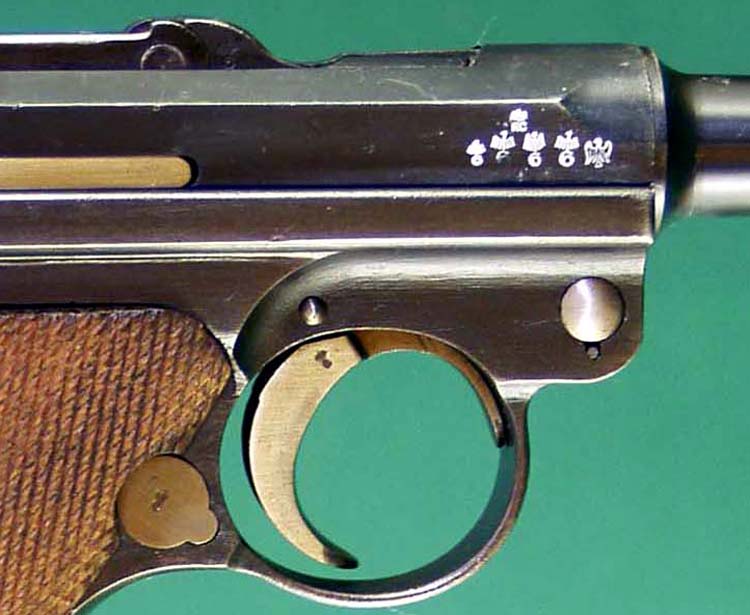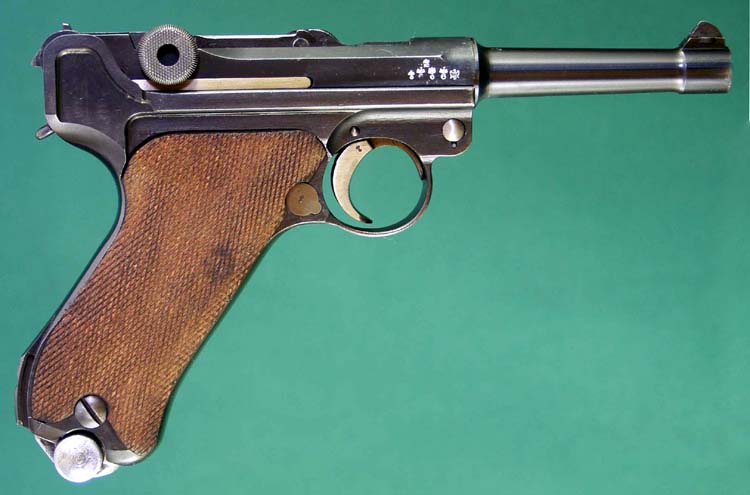 Photographs are copyrighted, all rights reserved, any extraction, reproduction or display of gun pictures without the express consent of the Phoenix Investment Arms is strictly prohibited. Thank you for your cooperation.
The Grips are serial number to the gun and are the further proofed. This is one of Simson's that you hear about but never see.

SEAR SAFETY: In this case you can see the sear safety probably fully installed at the original time of production. This was the invention of Ludwig Schiwy, a gunsmith and the owner of F.W. Vandry & Company, Berlin. It consisted of a spring-steel bar on the top of the trigger plate which springs down into a recess in the sear bar, locking the mechanism, if the trigger plate was removed. A police Luger requirement.

The Magazine has the very difficult to find police "K" proof. Itself worth the price of admission.
Home | New Additions | 1900-06 | WWI Imperial | Carbines | Artillery | Imperial Navy | Police Models | Archived Lugers | Accessories
Sell Your Gun | Notices | Good Info (C&R) | Ordering | Contact Us | Gun Shows | Legal Stuff | Testimonials | Notices | Holsters | Books
Top of Page

© Copyright 2001-2016 Phoenix Investment Arms Inc.