Archived-NOT FOR SALE
1906 DWM 9mm Early Military-
PHOENIX INVESTMENT ARMS - PREMIUM COLLECTOR LUGERS
Genuine German Luger - Largest Variety of Lugers Offered
Home | Post WWI DWM | Erfurt Lugers | Mauser | Simson Suhl | Krieghoff | Vickers, Ltd | Swiss Bern | Other Guns
Bottom of Page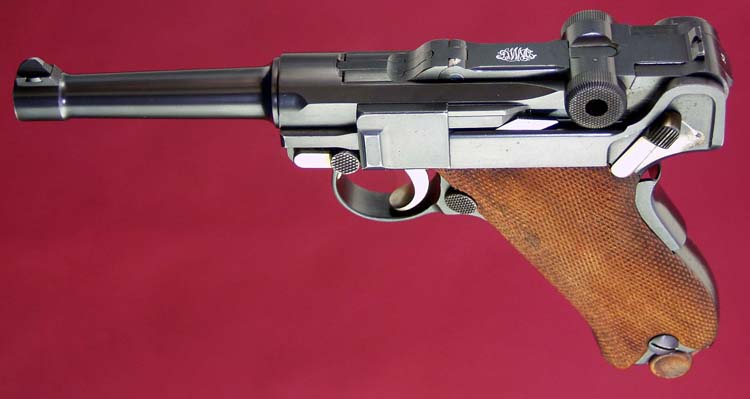 This is the classic 1906 Squeeze Grip Luger; but all common criteria ends there. No proofs to tell us that it is a commercial gun, no proofs to tell us it was a military acceptance gun. From the 100mm barrel chambered for the 9mm cartridge, unusual for a two digit '06, this is a 'must have' for most '06 Collectors. These were the first mass produced 9mm pistols; DWM actually had to make the cartridges in those days. This is not an export guns, no stamped Germany and not B.U.G. proofed. (823)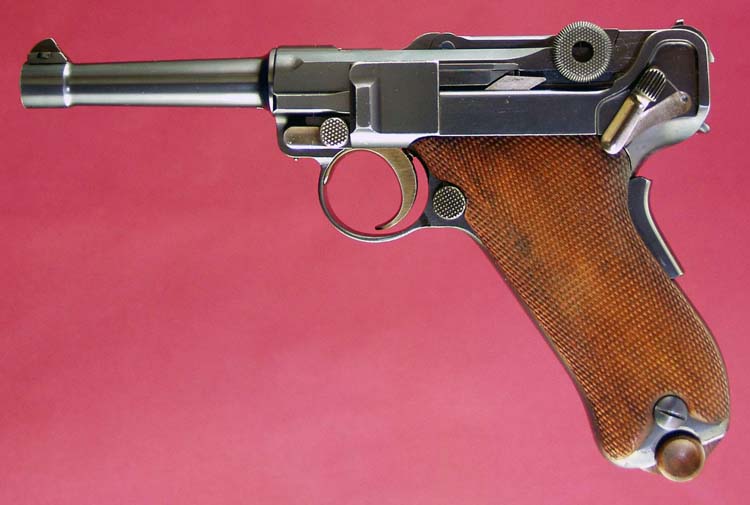 All matching numbers this gun was so early in production it didn't have the usual B.U.G. proofing or the later Crown N (Sept 1911) proof on the barrel or receiver if it was intended for commercial sale. The barrel is very good with clear lands and grooves. The gun has matching grips serial numbered to the gun and no stock lug, which points us to a commercial sample.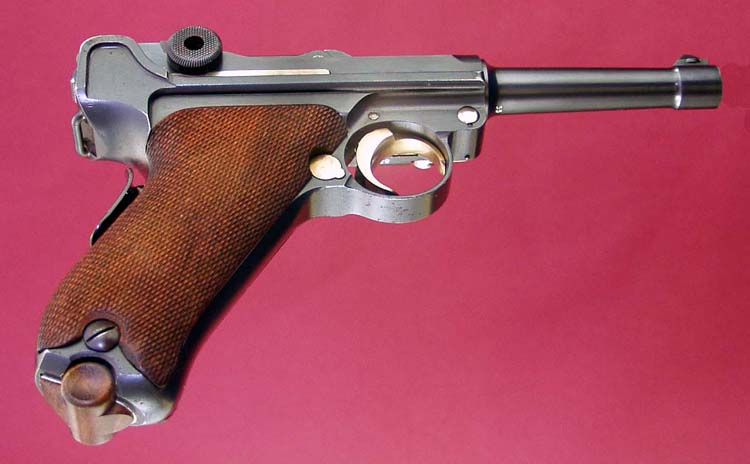 The gun is clean as a whistle of proofs that would tell us its intended market. Perhaps the absence of identifying proofs points us to a "salesman's sample" that can be showing to any of the countries that made up the DWM contract series of the 1906 model, including the German military who would be interested in the 9mm chambered gun.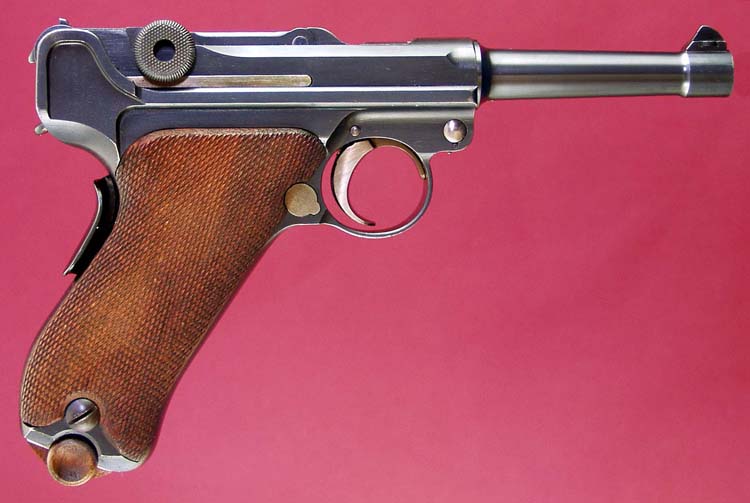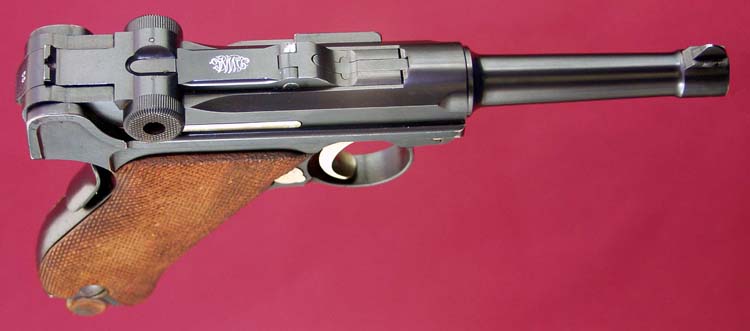 Every collector wants to have clearly labeled guns that fit within categories neatly documented by distinctions and variations. Is this a 1906 9mm Commercial version or a 1906 9mm Military submission we will never know, but that provides for the discussions that seem to engage us collectors.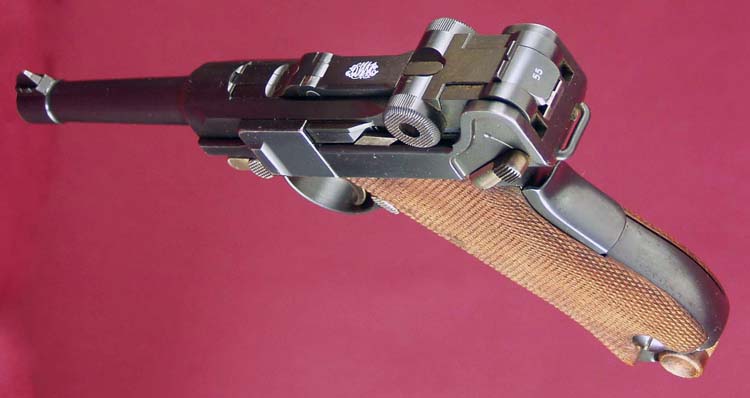 The Luger comes with a serial numbered hold-open device. The front site is dovetailed fixed with the standard site blade. The rear sight is "V" cut.

This Parabellum is 9mm, rare for an '06 squeeze grip Luger. Serial number placement is in the commercial ("hidden") style. One would expect the B.U.G. proofs on the gun and barrel for that early a gun.

No date or head stamp to tell us where it was going. No Germany export stamp, no suffix and a very early double digit serial number applied in the civilian 'hidden' fashion to the side place and locking lever. (See Below)

Not only commercially marked but with no barrel testing or nitro proof marks that would be associated with a commercial gun of that period. Truly a dichotomy for the collector.

This Parabellum is clean both inside and out. Someone has taken care of this Luger the past 100 years.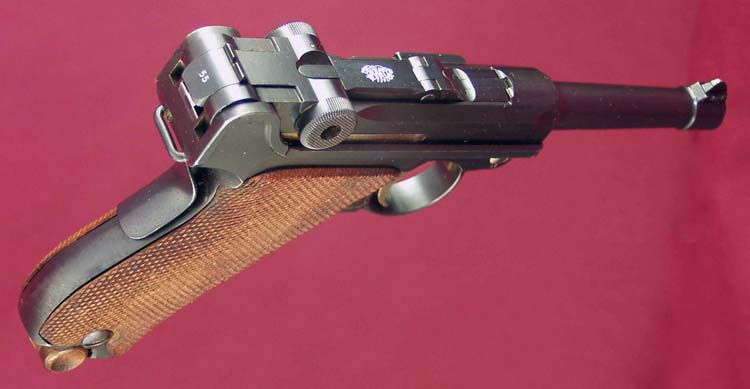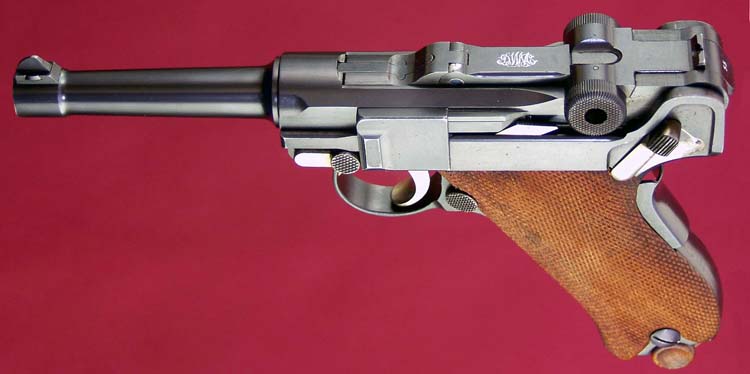 This is a VERY early 1906 military with a two-digit serial number, no export markings and in very good condition which makes it a super collectible.
Home | New Additions | 1900-06 | WWI Imperial | Carbines | Artillery | Imperial Navy | Police Models | Archived Lugers | Accessories
Sell Your Gun | Notices | Good Info (C&R) | Ordering | Contact Us | Gun Shows | Legal Stuff | Testimonials | Notices | Holsters | Books
Top of Page

© Copyright 2001-2016 Phoenix Investment Arms Inc.