Welcome to Phoenix Investment Arms, Investment Grade German Lugers
Best in Value. Finest in Quality. Authentic German Lugers.
At Phoenix Investment Arms we offer only the finest premium investment grade German Lugers.

Our clients are investors, collectors, and those who simply want to shoot one of the world's most recognized and coveted hand guns.

We Find Lugers a Good Home
Luger of the Month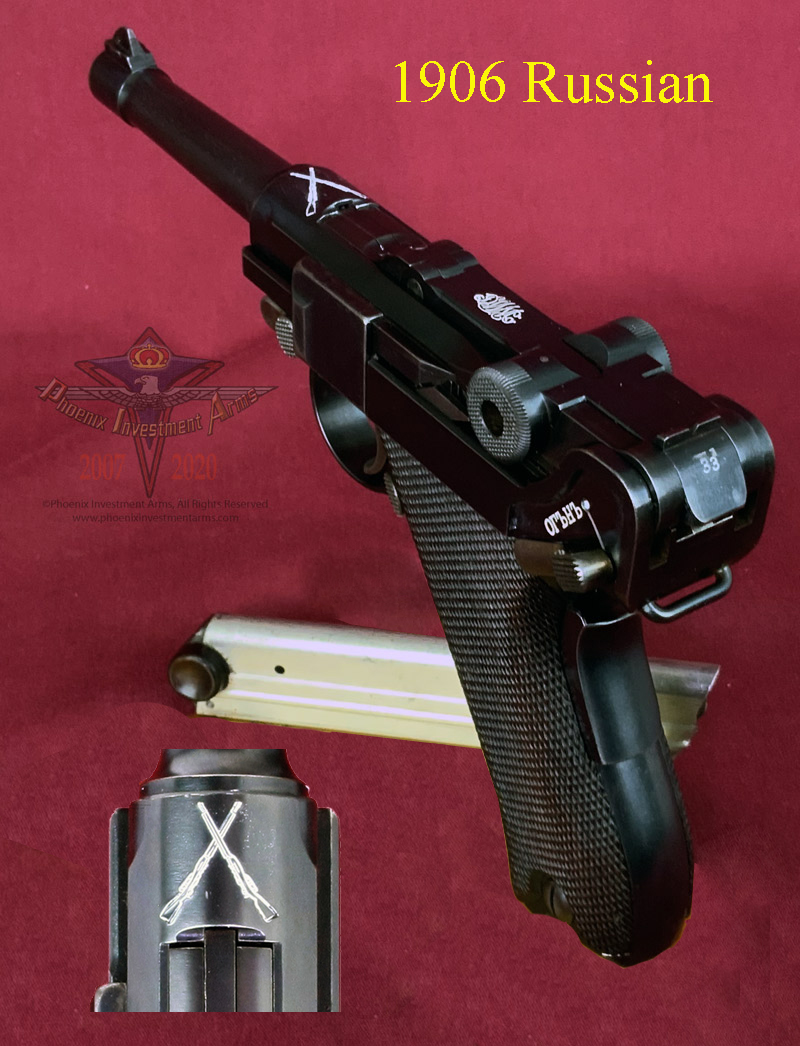 Lugerpistolenkollektor seit fünfundfünfzig Jahren
All the brands of Lugers are represented, DWM, Erfurt, Simson, Mauser, Krieghoff, Vickers, Swiss, Spandau plus
many holsters, accessories and militaria. Enjoy.
CONTACT INFORMATION:
(910) 868-7620 (Office, EDST)
(910) 303-4829 ( Cell)
Email (Click on Mail Box)

Visit our Archived Pages to see famous guns we have offered in the past and learn
about what made them the worlds most recognized handgun.
Home | New Additions | 1900-06 | WWI Imperial | Carbines | Artillery | Imperial Navy | Police Models | Archived Lugers | Accessories | Sell Your Gun | Notices | Books
Good Info (C&R) | Ordering | Contact Us | Gun Shows | Legal Stuff | Testimonials | Notices | Holsters |
Top of Page
NOTE: FIRING
Any weapon offered on this site or by Phoenix Investment Arms is NEVER test fired nor is there any representation, express or implied that the gun is functional and/or safe to fire. These weapons are sold as collectibles and only represented as used firearms that must be checked by a competent person, observing all the necessary safety precautions prior to attempting to load and fire any of these weapons. IF YOU ALTER THE FIREARM IN ANY WAY IT IS IMMEDIATELY YOURS.
Photographs and text are copyrighted, all rights reserved, any extraction, reproduction or display of gun pictures or associated text without the express consent of the Phoenix Investment Arms is strictly prohibited. Thank you for your cooperation.