1940 Frankenschloss Suhl - Archived
PHOENIX INVESTMENT ARMS - PREMIUM COLLECTOR LUGERS
Genuine German Luger - Largest Variety of Lugers Offered
Home | Post WWI DWM | Erfurt Lugers | Mauser | Simson Suhl | Krieghoff | Vickers, Ltd | Swiss Bern | Other Guns
Bottom of Page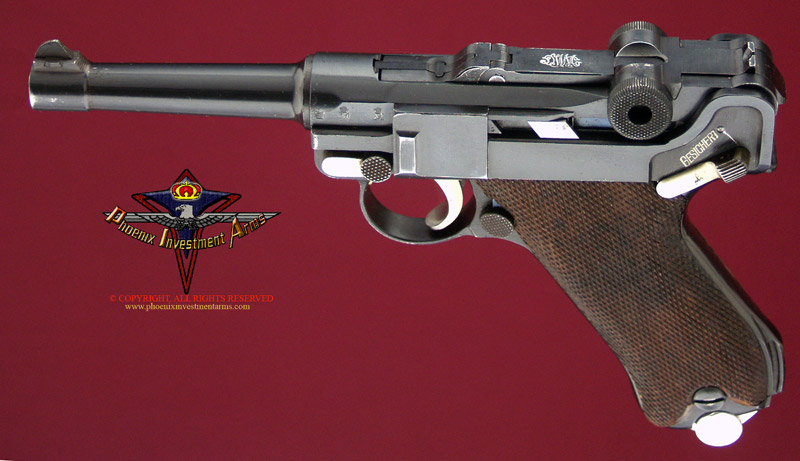 This is a very unusual Luger. It appears to have begun its career at a 1908 Navy from the Marinen proofs on the receiver. The barrel was replaced with a 100mm (4") which was a common practice as the 6" barrels were not used by the Weimar or 3rd Reich. The barrel is a 7.65mm which tells us that it was not intended for use by the combat forces of the Wehrmacht yet it has the Eagle J and Eagle N proofs of the 1939 proof law which was only after April 1940. (939)
Photographs are copyrighted, all rights reserved, any extraction, reproduction or display of gun pictures without the express consent of the Phoenix Investment Arms is strictly prohibited Thank you for your cooperation.
Suhl is a town in the free State of Thuringia, Germany. In the Middle Ages the town was called "Waffenschmiede Europas" (centre of arms production in Europe). During the war it also was the location for military armaments for the Wehrmacht. On April 3, 1945, American troops entered the city and ended the war for the residents of Suhl; and then firms such as Krieghoff, Anschutz, and Sauer and Son left and resettled in West Germany. The Americans took into custody and brought back to Bavaria several prominent weapons manufacturers including Fritz Walther (son of Carl Walther) and Heinrich Krieghoff. With subsequent Soviet troop occupation, nationalization of business enterprises began, weapons were stolen and shipped to Russia as reparations and the armaments plants were destroyed by the Soviets after being looted of anything valuable.

Note the Suhl Proof House Eagle J which means there has been a modification of the original gun and the Eagle N (Nitro) proof telling us it was tested to fire after modification with modern ammo. Serial numbers are concealed (Navy characteristic) and the Marinen (Navy) proofs are on the receiver. Extraordinary gun.

Some of the famous names of gun makers from Suhl are: Merkel, Haenel, Sauer, Simson, Meffert, Heym, Krieghoff and Schilling. Undoubtedly these major makers had many subcontractors that made parts or supplied components. While the name Frankenschloss doesn't show up in any available history we are continuing to research through the City of Suhl for records of this firm.
Crown over "N" was a mark set forth in the German National Proof Law of 19 May 1891, which became effective 1 April 1893. The "N" was an abbreviation for Nitro, meaning smokeless powder. The crown over "N" proof mark was superseded in April of 1940 by an Eagle over N proof mark as set forth in the National Proof Law of 7 June 1939, which became effective 1 April 1940. However, excluded from the Proof Law are weapons made, repaired or modified for military use exclusively. Therefore this gun was not re-built for the Wehrmacht but for some other civilian or quasi-military contract.

Note the "76" (last two digits of the serial number under the 1st toggle link and the breach block is still the Navy original. There is a large flanged rear axel pin which further defines the Navy it was. The inside of this gun is well cared for without any pitting usually associated with the area under the grips.

This gun was brought in during the Big Reno gun show by what appeared to be an father and son. The elder man appeared in his 80's and the conversation between them bordered in Russian. The son said that it was a Latvian border guard gun that his father had captured. Several years ago when I saw my first Lithuanian that was marked with the Pillars of Gediminas, it too was a 7.65mm and marked Frankenschloss Suhl. Subsequently I have had three Lithuanians all marked the same with 7.65mm barrels. One of these came with a holster, a strange insignia that we have never identified and the statement it was from a Lithuanian border guard. There appear to be a lot of conspiracy theories (http://www.freeexistence.org/lith_luger_debate.html)regarding these guns but sometimes the simple explanation is the easiest.
Our conclusion is that Frankenschloss was a smaller gun maker who obviously had access to military weapons and parts and perhaps was under contract to produce guns for the border guards in the commercial 7.65mm size. They were more than a gun retailer but rather as a manufacturer they had access to the Suhl proof house which tested the guns and proofed them. We have more to learn about this.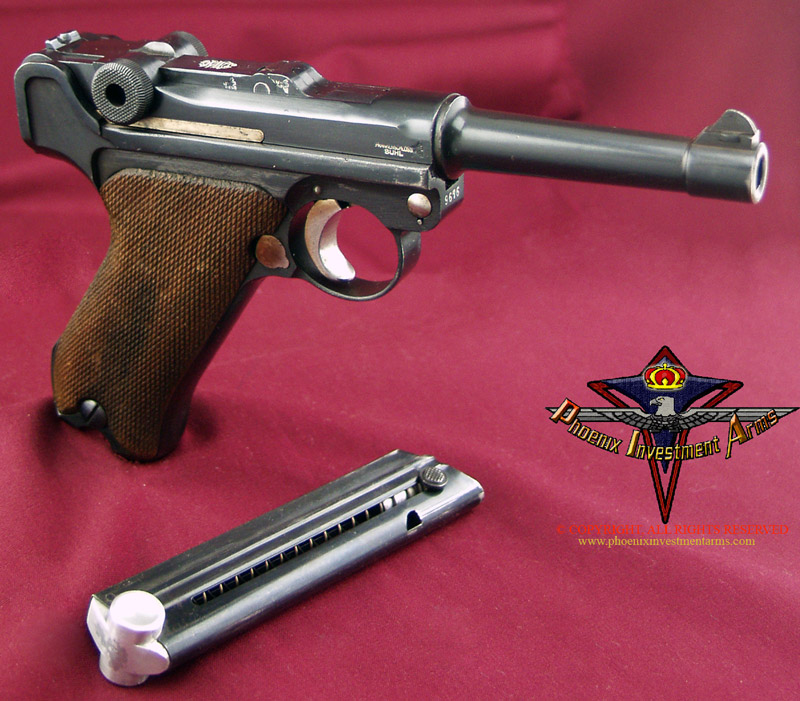 This is a very fascinating gun that has a history yet to be fully explored. We know it was a 1940 re-work of a WWI Navy that was proofed in the Suhl Proof House by a firm of Frankenschloss in a 7.65mm calibre and attributed to a contract for the Zollenpolitzei (Border/Custom Police). There are very few of these guns in collections and they rarely come out.