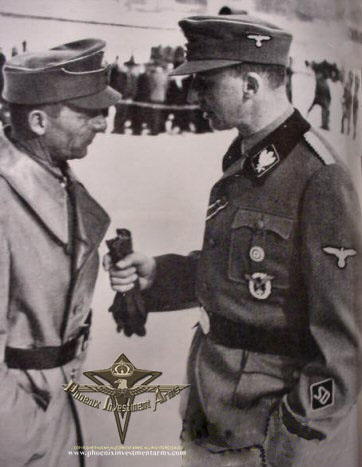 The chief of the SD was Reinhard Heydrick who reported directly to Heinrich Himmler.
Note the SD patch on the left sleeve of Heydrick.
The SD was one of the oldest security organizations of the SS and was first formed in 1931 as the Ic-Dienst, operating out of a single apartment. Both the SD and the Gestapo were effectively under the control of Heinrich Himmler as Chief of the German Police, but Kripo kept a level of independence, as its structure was longer-established.
The Sicherheitsdienst (SD, Security Service) was primarily the intelligence service of the SS and the NSDAP. The organization was the first Nazi Party intelligence organization to be established and was often considered a "sister organization" with the Gestapo, which the SS had infiltrated heavily after 1934. Between 1933 and 1939, the SD was administered as an independent SS office, after which it was transferred to the authority of the Reich Security Head Office (Reichs-sicherheitshauptamt, or RSHA), as one of its five offices.
The SD was tasked with the detection of actual or potential enemies of the Nazi leadership and the neutralization of this opposition. To fulfill this task, the SD created an organization of agents and informants throughout the Reich and later throughout the occupied territories. The organization consisted of a few hundred full-time agents and several thousand informants. The SD was mainly the information-gathering agency, and the Gestapo, and to a degree the Kriminalpolizei, was the executive agency of the political police system.
Serial number placement is in the military ("exposed") style. The serial number appears on the front of the frame, on the side of the locking bolt, on the trigger, on the bottom of the barrel, the side plate, the left side of the receiver, the safety bar, the sear bar, the rear connecting pin, and on the extractor.
Hermann Göring as the Interior Minister of Prussia issued a degree on Feb 22, 1933 raising an Auxiliary Police (Hilfspolizei HIPS) from members of the SA & SS made up of volunteers from the Prussian SA & SS and Stahlhelm and reached a strength of 50,000.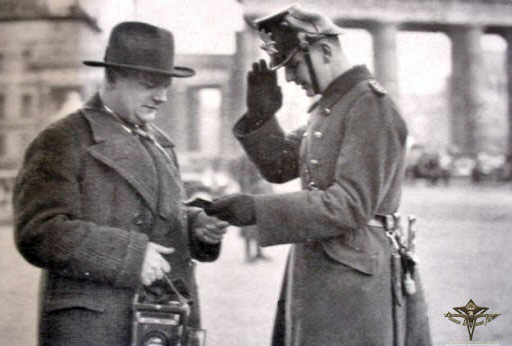 Here a Berlin Polizei is checking on a photographer's papers.
Right: The early police magazines were made rolled steel and this one is also proofed with the early Mauser 37 code which displayed on the magazine the receiver and the loading tool. Itself a fantastic collectors dream.