PHOENIX INVESTMENT ARMS - PREMIUM COLLECTOR LUGERS
Genuine German Luger - Largest Variety of Lugers Offered
Home | Post WWI DWM | Erfurt Lugers | Mauser | Simson Suhl | Krieghoff | Vickers, Ltd | Swiss Bern | Other Guns
Bottom of Page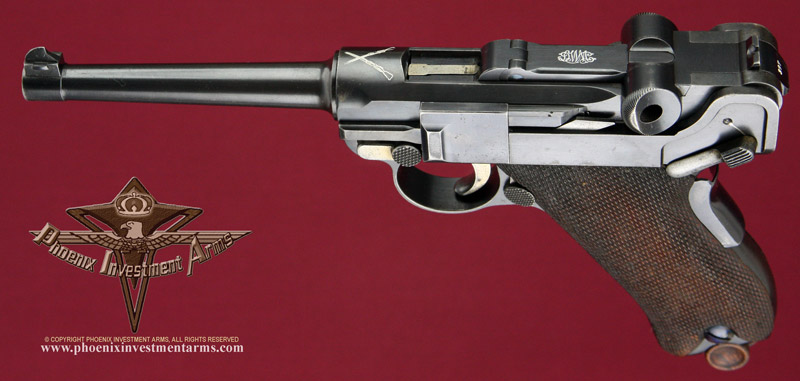 This is a very rare 1900 Model Russian test Luger manufactured by DWM (Deutsche Waffen und Munitions Fabriken) in Berlin. These early Lugers produced for the Russians were all commercial and are reflected in source documentation as early as 1904. While mostly found in the 1000 Lugers of the 1906 variation Luger, promotional materials however indicate that the Lugers for Russia were available in 1902 variations. (993)
Photographs are copyrighted, all rights reserved, any extraction, reproduction or display of gun pictures without the express consent of the Phoenix Investment Arms is strictly prohibited. These weapons are here for you to enjoy and study. Thank you for your cooperation.
The 1902 Parabellum is was known for the following characteristics: 7.65mm which was the preferred caliber for accuracy at that time. It has the 120mm barrel (4 3/4"), the wide grip safety, and the three digit numbers on the small parts. These Lugers also have the long frame and long receiver. Serial number range for the 1902 commercial Parabellum was 10001-21999.

This example has all matching serial numbers and is of the long frame without the stock lug and it has matching walnut grips. The first toggle link is marked with the DWM monogram, and there is the "V" rear sight on the last toggle link. Also it has a blank magazine characteristic of the commercial and no stock lug.

See Walker - The Luger Book, Page 239
Here we can see the proofs on the bottom of the receiver and the three digit serial number on the 1st toggle link.
The crossed Mosin-Nagant rifles marked the early test Russians; the Mosin-Nagant was the official rifle of Imperial Russia.

Serial #12347 series were actually delivered in 1904 for Russian Testing. The thumb safety lever was the "new" style with the small round end and grooved which remained the same until the end of production in 1945. They exhibit the flat strawed extractor characteristic of the 1900's DWM.
The testing of the Luger by the Russians at the Oranienbaum testing ground is documented by Federov. These tests resulted in the order for 1000 Lugers of the 1906 Model. The Russians called the Luger "Avtomaticheskii Pistolet Borkhardta-Lyugera".
The toggle lock mechanism of the 1900 Luger. Upon firing the receiver traveled rearward to hit the curved rear of the frame and simultaneously was "unlocked" from the flange that the spring loaded bar held the toggle knee in place. Upon return the spring loaded bar snaps over the flange.

1902 witnessed the introduction of the wide grip safety and the three digit serial number on the small parts. We can also see the shield proof found on early DWM Parabellums. This serial number range is from the lot of commercial Lugers that do not have the B.U.G. proof marks.

The bore is shiny with only very minor evidence of characteristic pitting from corrosive primers used in those days. No import markings, the grip safety is serial numbered to the gun and you can see the leaf main spring and long sear. Just a very clean example of the early and very rarely seen Russian Parabellum. All matching serial numbers and a blank DWM style magazine.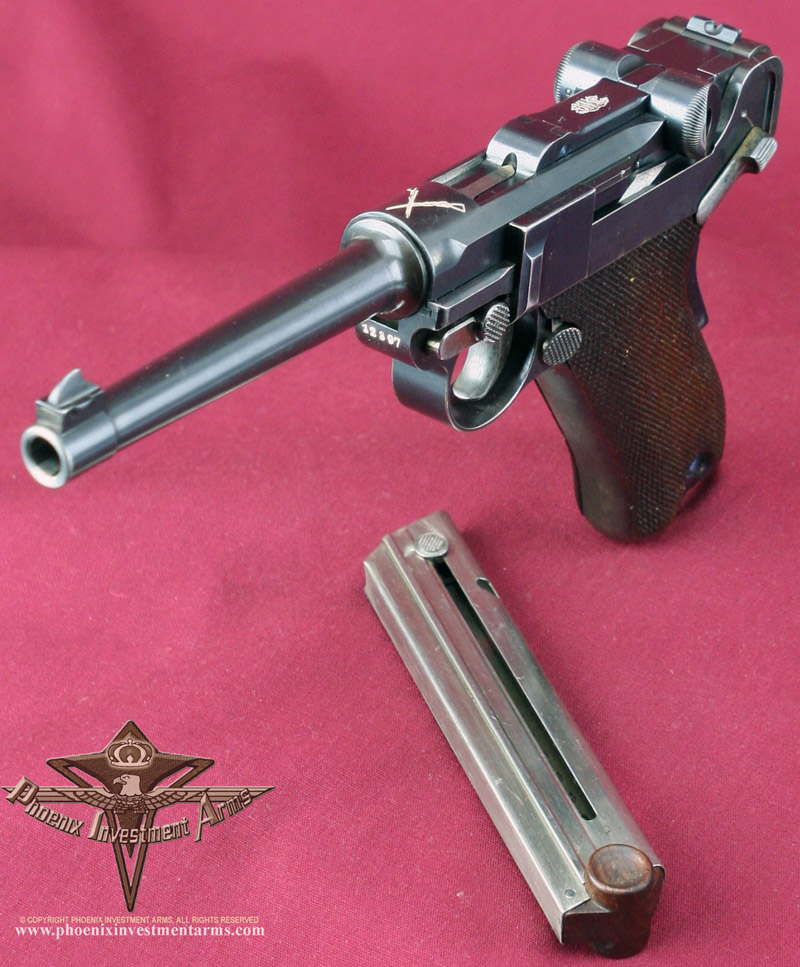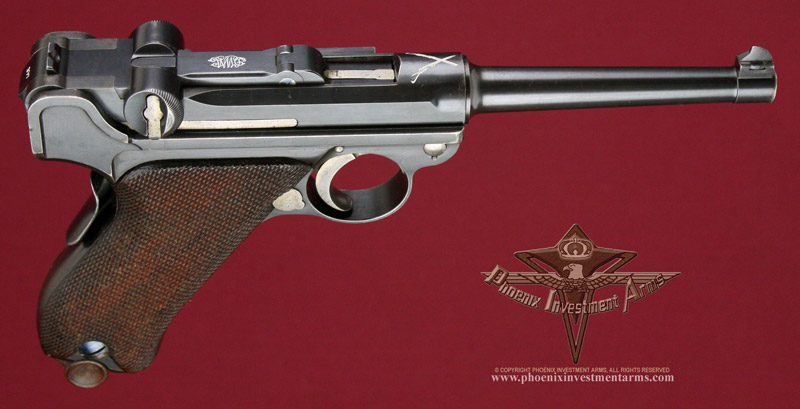 This is a very rare example of a very early 1900 Model Russian Test Luger that was made by DWM in 1902 and most likely delivered in 1904 for the Russian Imperial testing. This Luger is being offered for $24,950.00