Archived-NOT FOR SALE
1942 "42" dated Mauser byf Cut-Away -
PHOENIX INVESTMENT ARMS - PREMIUM COLLECTOR LUGERS
Genuine German Luger - Largest Variety of Lugers Offered
Home | Post WWI DWM | Erfurt Lugers | Mauser | Simson Suhl | Krieghoff | Vickers, Ltd | Swiss Bern | Other Guns
Bottom of Page

This is a very rare example of a "42" dated Mauser Cutaway, They were manufactured to provide a training aid to the military who were assigned the Parabellum. Factory cutaways did not have serial numbers, while Ordinance cutaways usually have both serial numbers and proofs. (780)
The manufacturer is Mauser and started as a 9mm Luger with a 100mm Barrel. We know is was marked byf on the first toggle link is because of the Eagle 135 proofs, and there is the "V" rear sight on the last toggle link.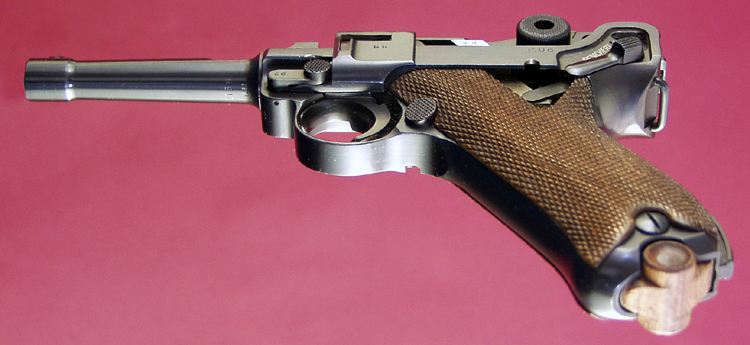 The front site is dovetailed fixed with the standard sight blade. The frame is the short "new" model with the shortened sear. The presence of serial numbers tells us that the German Ordinance depot cut the gun for use as a training aid.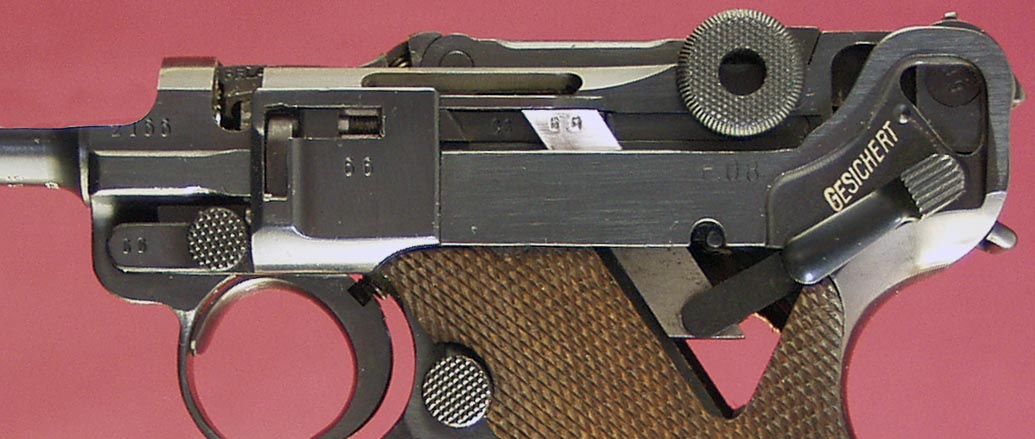 Effective in February 1941 Mauser was issued the "byf" code that was to replace the "42" code they had been using. In late 1941 der Waffenamt inspector E655 was replaced by E135. In mid-1942 Mauser began to tool up for the P-38 and was finishing out it's contract for the P-08 and by November 1942 production had stopped although there were sufficient parts to continue to assemble guns.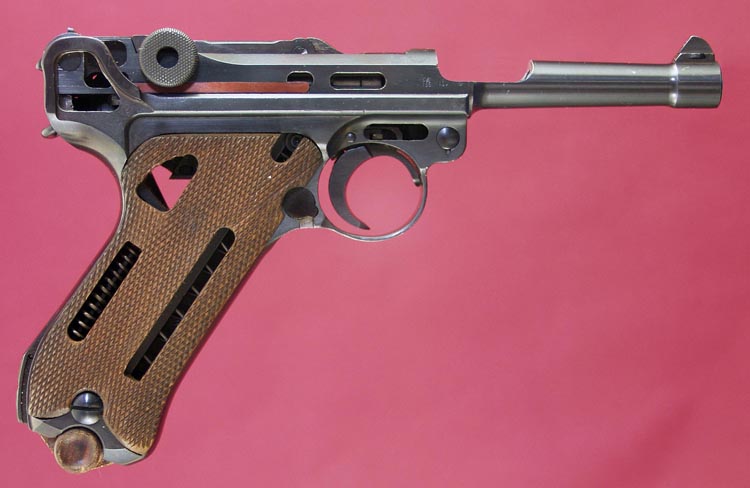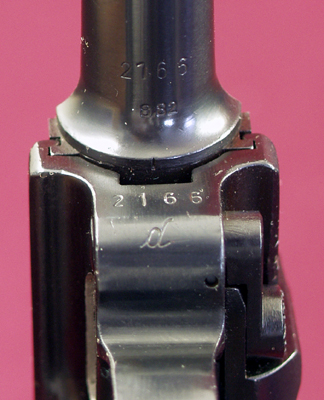 The grips are walnut, fine checkered and are in excellent condition.
The "d" suffix and Waffenamt proofs tells us this gun left the Mauser factory intact and the Ordinance depot is the one who made it into a cutaway.
By 1942 the German military was no longer ordering the Luger as a military sidearm with the order to switch to the P38. The only remaining contracts were with 4500 going to Portugal and 5600 going to Bulgaria. Perhaps it was for one of Germany's allies that this particular cutaway was made for because the German troops were long familiar with its operation.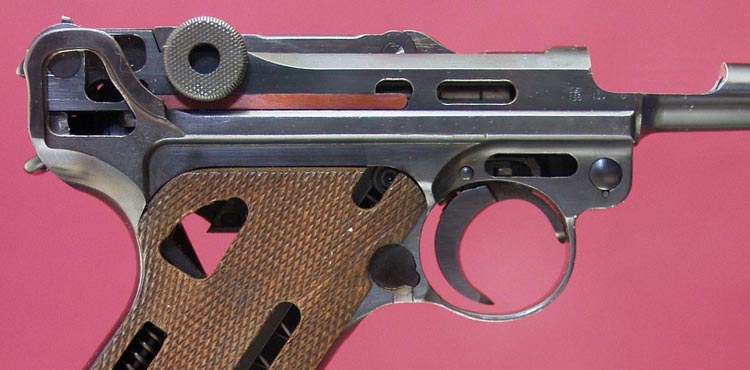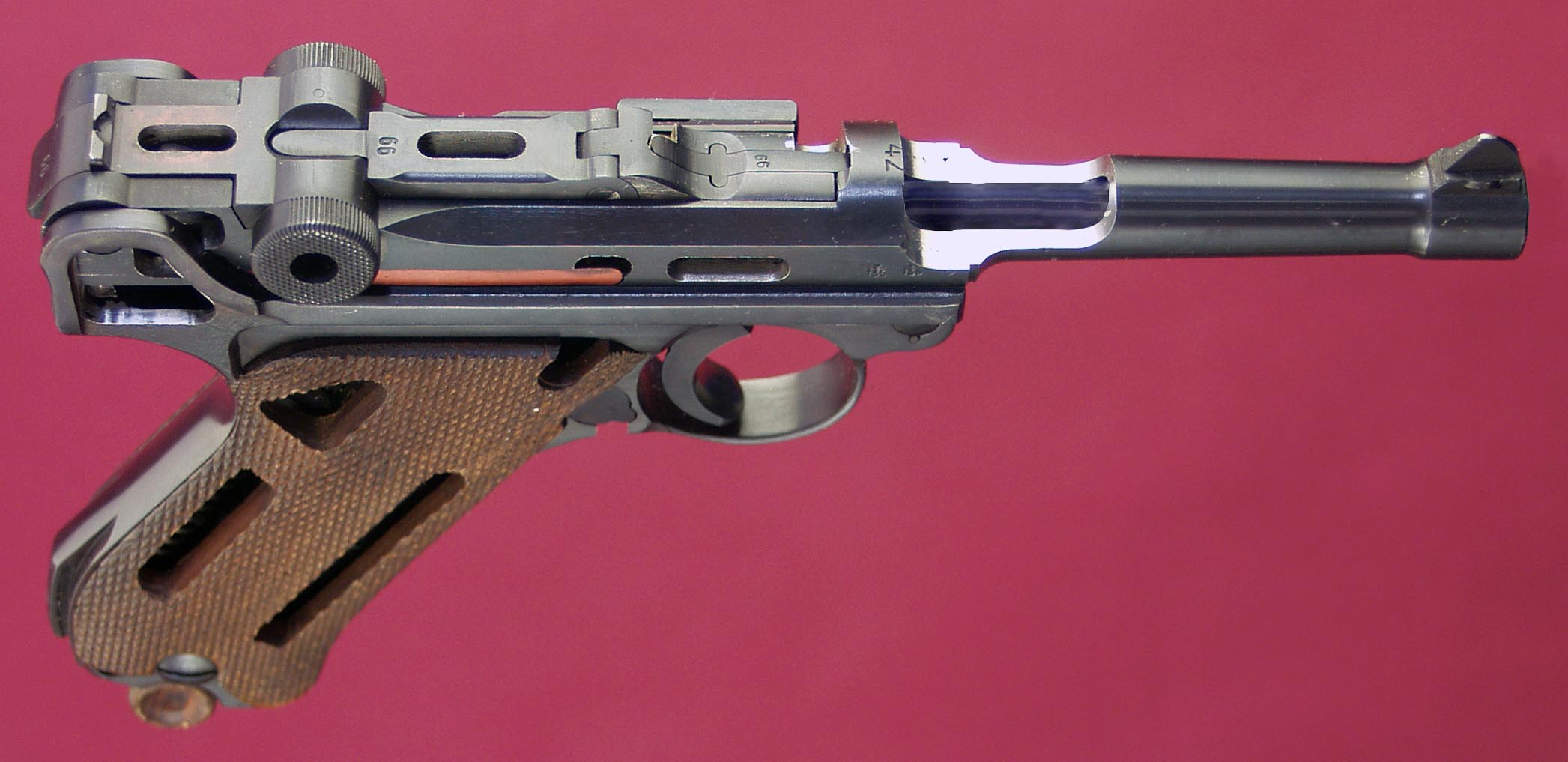 This is an opportunity for the advanced collector to possess a unique Luger that not only demonstrates the mechanical genius of George Luger' 50 years of production verified but a very difficult gun to obtain.
Home | New Additions | 1900-06 | WWI Imperial | Carbines | Artillery | Imperial Navy | Police Models | Archived Lugers | Accessories
Sell Your Gun | Notices | Good Info (C&R) | Ordering | Contact Us | Gun Shows | Legal Stuff | Testimonials | Notices | Holsters | Books
Top of Page

© Copyright 2001-2016 Phoenix Investment Arms Inc.