LUGER ARTILLERY MODEL 1914-1920
PHOENIX INVESTMENT ARMS - PREMIUM COLLECTOR LUGERS
Genuine German Luger - Largest Variety of Lugers Offered
Home | Post WWI DWM | Erfurt Lugers | Mauser | Simson Suhl | Krieghoff | Vickers | Swiss Bern | Other Guns
Bottom of Page
ARTILLERY 200mm (+) Barrel Models

1914 Artillery: This is a 1914 chamber dated DWM 8" model with the 800 meter adjustable rear sight. The 1914 Chamber Date is one of the most difficult of the Artillery models to find with an adjustable front site. (1884

)

SOLD

1917 Artillery Full Rig: This is a 1914 Model, chamber dated 1915 DWM 8" model with the 800 meter adjustable rear sight mounted on the barrel. This rig comes with a belt holstered rig, cleaning rod, proofed loading tool, field belt buckle and period belt. (1714) SOLD

1917 Artillery Belt Rig: This is a 1914 Model, chamber dated 1917 DWM 8" model with the 800 meter adjustable rear sight mounted on the barrel. The original intent was to issue the 8" weapon to gun boat crews but it then became standard issue to machine gun crews and artillery units. This rig comes with a belt holstered rig, cleaning rod, proofed loading tool, field belt buckle and period belt. (1274)

SOLD

1917 Full Artillery Rig with all matching 1917 Lange Parabellum, matching stock, magazine pouch with two additional matching magazines, proofed cleaning rod and proofed loading tool with a lined attachment cap and all the straps, keepers and studs. This is as good as it gets for a complete rig. (1532)

SOLD
NAVY 150mm Barrel Models
Home | New Additions | 1900-06 | WWI Imperial | Carbines | Artillery | Imperial Navy | Police Models | Archived Lugers | Accessories
Sell Your Gun | Notices | Good Info (C&R) | Ordering | Contact Us | Gun Shows | Legal Stuff | Testimonials | Notices | Holsters | Books
Top of Page
© Copyright 2001-2015 Phoenix Investment Arms Inc.
LAYAWAYS: Sometimes our "significant other" doesn't understand the beauty, craftsmanship and investment potential of one of these investor grade weapons. In these circumstances where discretion becomes the better part of valor we will accept layaways of up to one year with at least 20% down and some activity occurring monthly to insure that after one year the sale is completed. Cancellations of layaways forfeit 33% if done within two months, otherwise 100%. You can transfer a layaway to a consignment sale at any time. See "Legal" for exact terms.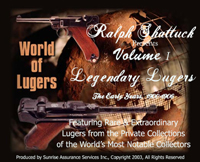 If you love Lugers, or just want to look at some rare Lugers from private collections of the world's most renowned collectors then check this out.
Over 35 Legendary Lugers, in multiple high-resolution shots depicting details you can study, over 90 pictures, close to 30 minutes of viewing time. Click below to see more.