1938 Reich Luftschutz Bund Dagger

PHOENIX INVESTMENT ARMS - PREMIUM COLLECTOR LUGERS
Genuine German Luger - Largest Variety of Lugers Offered
This is a WWII German 2nd issue RLB Leaders' Dagger. The diamond shaped maker marked KRONECK with crown & ERNST ERICH WITTE, SOLINGEN below Trade Mark. The blade is 9.5 inch (24.5 cm) and remarkably shiny with no rub marks. The scabbard retains 99% of the black leather showing very minor surface wear. The aluminum hilt fittings show very light surface wear to the "art deco" style eagle cross guard and pommel with a Starburst emblem with the swastika. The correctly textured black leather covered grip shows light wear and has nickel plated scabbard fittings. Dent-free scabbard fittings show light surface wear and are complete with all screws which are unturned and scabbard rings. (AC401)

NOTE: Photographs taken today with the high mega-pixel camera show more than we sometimes can see with the human eye. Magnified close-ups show us tool marks and natural surface conditions that one normally doesn't see in the ordinary handling of the weapon. Photographs are copyrighted, all rights reserved, any extraction, reproduction or display of gun pictures without the express consent of the Phoenix Investment Arms is strictly prohibited. Thank you for your cooperation. Please visit Legal (tabbed) for Conditions of Sale.
The Reich Air Ministry established the RLB in April 1923, from the existing Deutches Luftschutzverband (German Air Protection League) by Hermann Goring's declaration that the RLB was to be the official air raid protection service of the state.

The primary mission assigned to the RLB was to protect the cities and population from hostile attacks. This group was also charged with training the civilian population in civil defense subjects and air raid precautions. With the exception of a small cadre of career officers, the remainder of the force was composed of volunteers similar to the U.S. Civil Defense Corps.

Well known for their Gladiator style helmets this was a civilian organization initially of volunteers and then made compulsory as Allied bombing intensified.
Introduced in 1936, revised in 1938 for issue to select full time members of the Reich Luftschutz Bund, the air raid protection force of Nazi Germany. Though the RLB had a massive personnel roster, the blade's status as a reward for a special action resulted in a limited number being available today. 15 3/8 inches (39cm) overall, with an 9.5 inch blade, marked with the Kroneck logo with an Solingen on the back side. The front guard is decorated with a stylized Nazi eagle, nickel finished brass pommel, smooth leather covered grip and black enamel painted brass Swastika in Sunburst insignia. The black leather scabbard, with two nickel fittings.

The Art Deco stylized Eagle w/Swastika is in excellent condition with only minor oxidation in the recesses. The KRONECK maker marked in a diamond with a crown and ERNST ERICH WITTE, SOLINGEN below the Trade Mark. Very few of these daggers were manufactured and highly sought by collectors'.
The R(Reich) L(Luftschutz) B(Bund) was actually a civilian organization subdivided into two separate formations:

(1)… the Luftschutz (Air Raid Protection)

2)… the Warndienst (Air Raid Warning Service). After 1943, the Warndiest became a part of the German Order Police although it still functioned as the Air Raid Warning Service of the Reich. By 1939 over 15 million men had joined the RLB as volunteers. Volunteers had to purchase their own steel helmets and had no uniform. These volunteers mainly managed the air raid shelters on a street by street basis. The small cadre of career officers carried out training and management of the volunteer force. As the war progressed the role of the RLB was expanded to include search and rescue, fire fighting, decontamination, demolition of damaged buildings etc.

Here's a good honest example with a super blade. The blade is shiny and it shows a very small amount of wear. The tip is perfect, there appears to be been no sharpening and the cross grain looks awesome against the light! The leather buffer is in good condition and remains intact. The early silver washed hilt fittings shows a little bit age. The scabbard fittings shows minor age and small discoloring on the sides. The dent-free dark navy-blue/black leather shows light wear throughout although remaining in very good condition with full leather coverage. The grip is complete with a starburst grip emblem centered by the swastika which shows some minor discoloring to the black enamel on the swastika. Ask for more pictures if you need to make a buying decision.

In 1938 the RLB officers dagger was altered to include the updated Luftschutz grip insignia of the black swastika and also a detachable dual strap black leather hanger. The new dual strap leather hanger had white metal buckles with oak leaf designs. To allow the new hangers to be worn, a new central silver plated hanger mount and suspension ring was fitted into the middle of the scabbard. Production of the RLB dagger ceased in 1942.

The German Dagger was a very popular souvenir for many WW2 veterans who served in the European theater. For the German officers who wore them, they were a symbol of status, rank and power. WWII German Daggers were not used as weapons, but simply as an accessory to the uniforms of the German Officers. Some of the more common of these German Collectibles are the; German Army Dagger (Heer Dagger), Luftwaffe Dagger (Air Force Dagger), Navy Dagger (Kriegsmarine Dagger), and the Hitler Youth Dagger (HJ Dagger). There is also the ever popular Nazi SS Dagger. These daggers can be recognized by the prominent deep black handle and sheath, with a round "SS" button at the top of the handle, just beneath the top cross guard.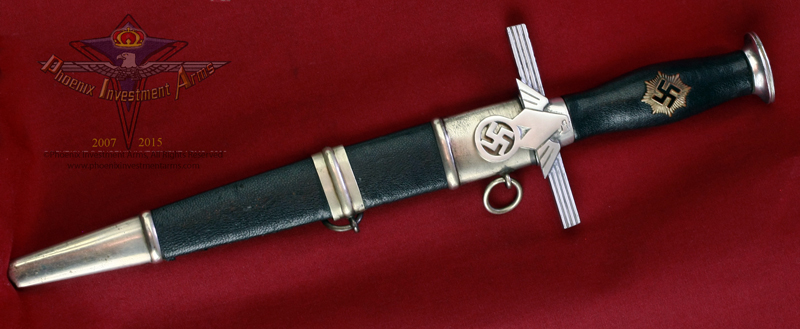 This is a minty 2nd Issue (1938) Luftschutz Leaders dagger in its original condition. This is bargain priced to be affordable in any collection. This RLB dagger is offered over the counter for

. We do not warrant availability until a deposit is made on the item. Check prices for comparable items offered for $3900
http://www.johnsonreferencebooks.com/?shopp_product=2nd-model-rlb-leader%E2%80%99s-dagger-28841 . Any questions to josef@phoenixinvestmentarms.com

LAYAWAYS: Sometimes our "significant other" doesn't understand the beauty, craftsmanship and investment potential of one of these investor grade weapons. In these circumstances where discretion becomes the better part of valor we will accept layaways of up to one year with at least 20% down and some activity occurring monthly to insure that after one year the sale is completed. Cancellations of layaways forfeit 33% if done within two months, otherwise 100%. You can transfer a layaway to a consignment sale at any time. See "Legal" for exact terms.
3 Day Return Policy
We honor a three day return policy. We will answer any questions, send you any pictures, as detailed as you want, to insure that what we are showing you is what you want to see, before you buy it. See Legal.
FIRING ANY WEAPON NEGATES ANY CHANCE OF RETURN!
WARNING: We do not represent these guns as safe to fire. They are not test fired before sale; they are sold as collectibles only. Prior to firing you should have it inspected by a qualified individual and abide by all safety requirements.
Genuine Lugers Sales - Luger History - Luger Accessories - Luger Holsters - Parabellum
© Copyright 2001-2019 Phoenix Investment Arms Inc.
© Copyright 2001-2009 Phoenix Investment Arms Inc.
© Copyright 2009 Phoenix Investment Arms Inc.