Archived-NOT FOR SALE
1904 DWM Imperial Navy
PHOENIX INVESTMENT ARMS - PREMIUM COLLECTOR LUGERS
Genuine German Luger - Largest Variety of Lugers Offered
Home | Post WWI DWM | Erfurt Lugers | Mauser | Simson Suhl | Krieghoff | Vickers, Ltd | Swiss Bern | Other Guns
Bottom of Page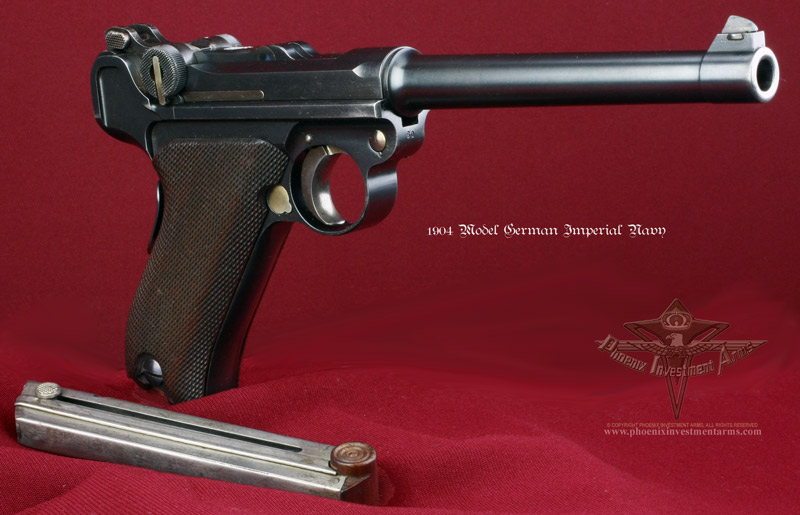 This a very rare 1st Navy Contract 1904 DWM Imperial Navy with a 150mm barrel in 9mm. [1022]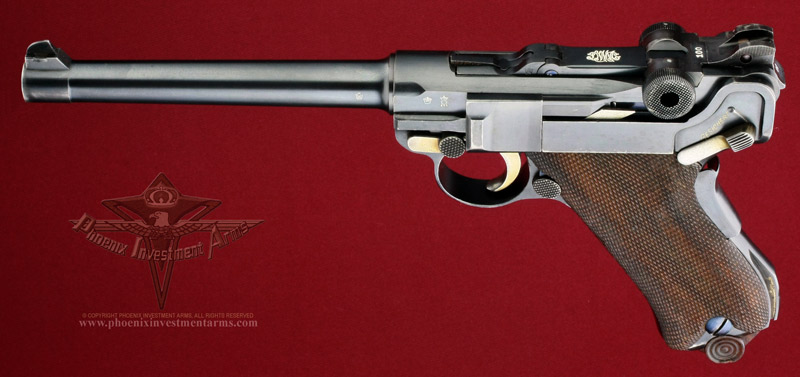 NOTE: Photographs taken today with the high mega-pixel camera show more than we sometimes can see with the human eye. Magnified close-ups show us tool marks and natural surface conditions that one normally doesn't see in the ordinary handling of the weapon. Photographs are copyrighted, all rights reserved, any extraction, reproduction or display of gun pictures without the express consent of the Phoenix Investment Arms is strictly prohibited. Thank you for your cooperation.
The proof markings on the '04 Navy are transitional without the Navy having adopted the exact number and locations of the Marinen (Marine/Navy) proof locations. This Parabellum has been "altered", that is when the 1908 model was ordered and delivered the thumb safety went from bottom to top. It was determined that the weapon was more comfortably armed by pushing the thumb safety up to fire it. Therefore the thumb safety mechanism was reversed and those Lugers already issued were called back and "Altered"

This is a very low serial number and was surely used for tests and did not see a lot of service. The magazine had not yet been numbered. Early magazines were early numbered horizontally with the small type and then vertically numbered with the larger type. The Marinen proof appears on the bottom of the magazine.

Below you can see the close up on the Geladen on the extractor. When the extractor was protruding as in the picture one could tell a round was in the chamber both visually and by touch in the dark.
Above we can see the serial number on the grip safety was on the side and not at the top by the sear stop. Navy models always had hidden serial numbers. Below we can see the rear squeeze sight and the 100/200 meter adjustment.

Top/Down Shot of the Luger in recoil, the right lock slide back to disconnect from the frame before it ascends following the ramp of the rear frame.

Note where the "80" is under the side plate; Navy proofing was a lot like the commercial proofs "hidden".
Right side detail of the rear leaf main spring, the small grip safety spring and the toggle lock. One one sided toggle lock is shared only with the 1903 French version. This was really a transitional piece and very rare.
Here are adjoining pictures showing the thumb safety down with the Gesichert (Safe) exposed and the thumb up ready to fire position. Under the Gesichert one can barely see the location where the original safety was missed out, filled, polished and re-blued. It would be our suspicion that this gun was used as a model and the fine worksmanship (no tool marks and beautiful bluing) attest to this.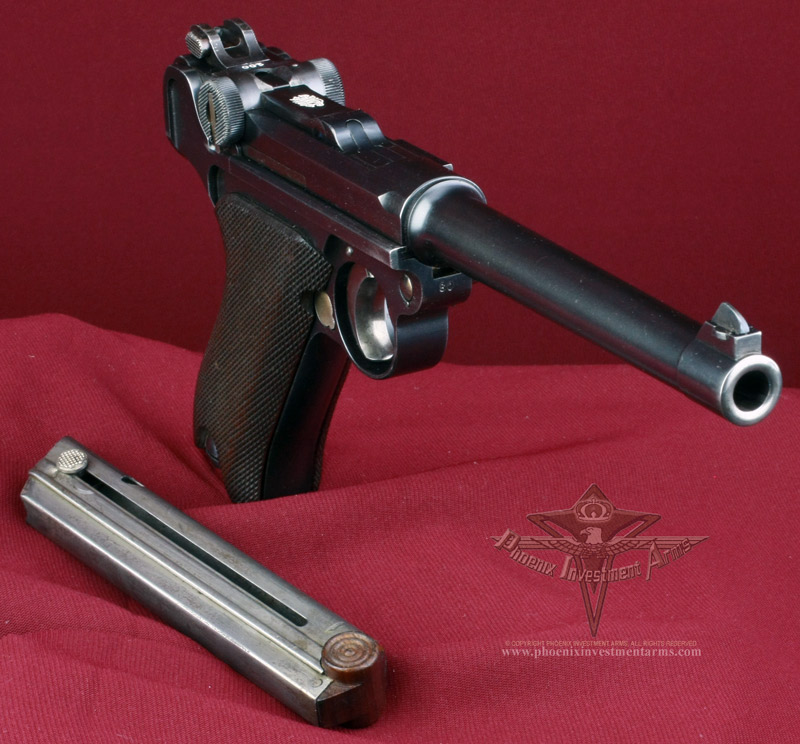 Simply a magnificent example of the early German Imperial Contract with DWM for the 6" Navy, it doesn't get any better than this.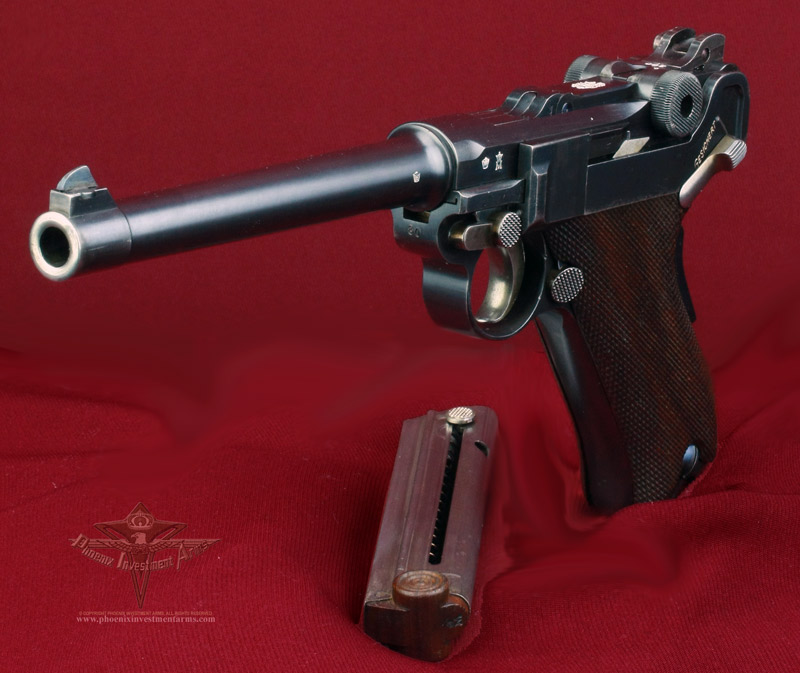 Home | New Additions | 1900-06 | WWI Imperial | Carbines | Artillery | Imperial Navy | Police Models | Archived Lugers | Accessories
Sell Your Gun | Notices | Good Info (C&R) | Ordering | Contact Us | Gun Shows | Legal Stuff | Testimonials | Notices | Holsters | Books
Top of Page