PHOENIX INVESTMENT ARMS - PREMIUM COLLECTOR LUGERS
Genuine German Luger - Largest Variety of Lugers Offered
Home | Post WWI DWM | Erfurt Lugers | Mauser | Simson Suhl | Krieghoff | Vickers | Swiss Bern | Other Guns
Bottom of Page
CARBINE 300mm (+) Barrel Models

Created in the early 1900's as an early horse back carbine taking advantage of the multiple round (repeater) capability it was the crème de la crème of the horseman hunter for that period. Fired with or without the stock in both7.65mm and then the new 9mm round it was accurate and effective fire arm. Borne by the likes of both Kaiser Wilhelm and President Teddy Roosevelt it\it was a prized gun in limited production
| | |
| --- | --- |
| | 1902 Carbine (Cased) Very unique long barrell (300mm) carbine with matching stock. Dished toggles, 7.65mm, all-matching, adjustable sling and custom display case. Enjoy 120 yr old Luger |

This 1920 style long barrel carbine with the full stock serial numbered to the gun. Standard 300m barrel and 7.65mm (.30 Cal Luger). Available for one year layaway with $1700 down. MORE PICTURES (1449)

SOLD
Really minty 1902 300mm barrell all matching carbine with an adjustable sling, loading tool and custom lined case. Really a beauty this 120 yr old collectors prize. Click HERE for MORE PICTURES. (2177)

This is a excellent example of the 1920 Model DWM (Deutsches Waffen Und Munitionsfabriken Co) sporting carbine. These were a limited manufacture for the "light rifle market". The barrel is 300mm long with a ramp front sight and came in the 7.65mm (.30 Cal Luger). These guns utilized the "short" frame and sear of the later models along with the characteristic diced toggles. (1476)


This is a 1920's style Parabellum Carbine in 9mm and with a 300mm long barrel with a ramp front sight and rear "Navy" style rear sight. These guns utilized the "short" frame and sear of the later models along with the characteristic diced toggles.
5

(1552) SOLD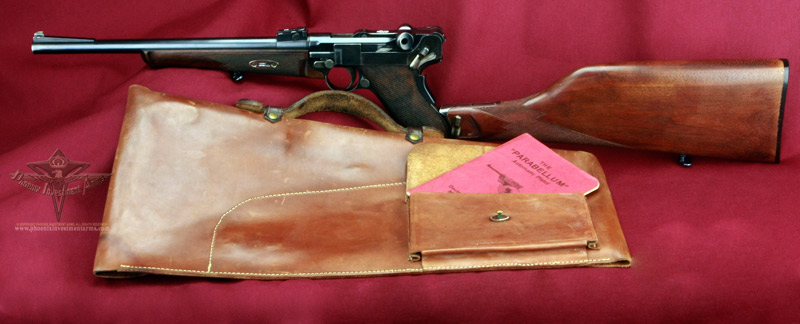 This is a excellent example of the 1902 Model DWM (Deutsches Waffen Und Munitionsfabriken Co) sporting carbine. These were a limited manufacture for the "light rifle market". The barrel is 300mm long with a ramp front sight and came in the 7.65mm (.30 Cal Luger). (1475)

SOLD
LAYAWAYS: Sometimes our "significant other" doesn't understand the beauty, craftsmanship and investment potential of one of these investor grade weapons. In these circumstances where discretion becomes the better part of valor we will accept layaways of up to one year with at least 20% down and some activity occurring monthly to insure that after one year the sale is completed. Cancellations of layaways forfeit 33% if done within two months, otherwise 100%. You can transfer a layaway to a consignment sale at any time. See "Legal" for exact terms.