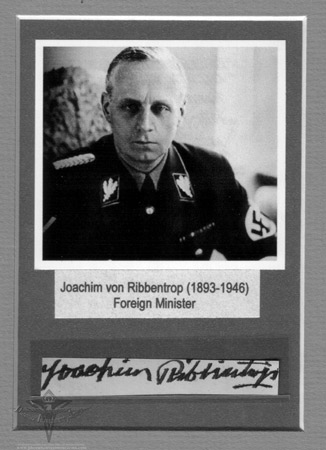 Joachim von Ribbentrop, the son of a German Army officer, was born in Wesel on the Rhine, Germany, on 30th April, 1893. Educated at a boarding school at Switzerland he also spent time in France and England as a child.
In 1910 he traveled to New York and Boston working at several posts before returning to Deutschland in 1914 at the outbreak of WWI.
At the outbreak of the First World War Ribbentrop joined the German Army. While serving with the 125th Hussar Regiment he won the Iron Cross. After being seriously wounded in 1917 Ribbentrop joined the War Ministry and was a member of the German delegation that attended the Paris Peace Conference.
In May 1932 Ribbentrop joined the National Socialist German Workers Party (NSDAP). He quickly moved up the hierarchy and in 1933 became Hitler's foreign affairs adviser. The following year he established the Ribbentrop Bureau an organization that eventually had a staff of 300 people.
Adolf Hitler appointed Ribbentrop as the ambassador to London in August, 1936. His main objective was to persuade the British government not to get involved in Germany territorial disputes and to work together against the communist government in the Soviet Union. When Ribbentrop presented his credentials to George VI on 5th February, 1937, the British were outraged when he gave the Hitler salute.
He also upset the British government by posting Schutzstaffel (SS) guards outside the German Embassy and by flying swastika flags on official cars. Von Ribbentrop was made an honorary SS General by Himler upon orders from Adolf Hitler. (1030)