Archived-NOT FOR SALE
1936 Dated Krieghoff
PHOENIX INVESTMENT ARMS - PREMIUM COLLECTOR LUGERS
Genuine German Luger - Largest Variety of Lugers Offered
Home | Post WWI DWM | Erfurt Lugers | Mauser | Simson Suhl | Krieghoff | Vickers, Ltd | Swiss Bern | Other Guns
Bottom of Page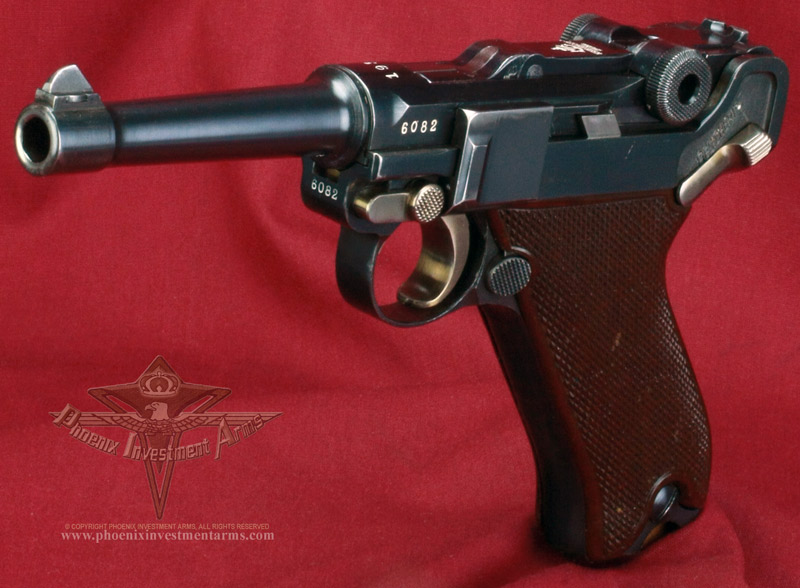 This is a Chamber Dated 1936 Krieghoff, made for the German Luftwaffe. It is a 1908 Model, 9mm with a 4" (100mm) Barrel.

The first toggle link is marked with the Krieghoff monogram, and there is the "V" rear sight on the last toggle link.

The extractor is marked "GELADEN". The bore is very good with distinctive lands and groove.

The thumb safety is new style, and straw blued.

(1052)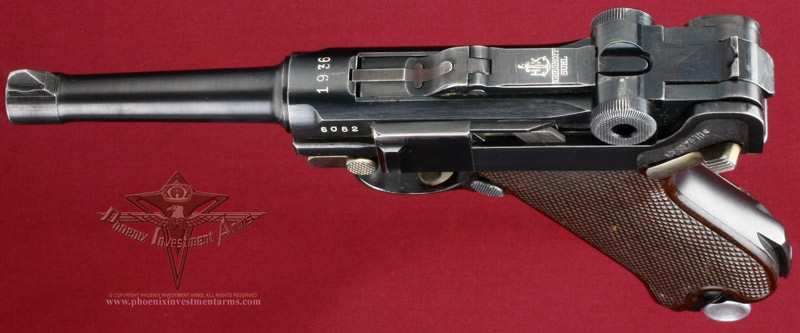 In 1934 the Luftwaffe announced it was seeking bids for military pistols. It is assumed that Krieghoff had acquired the old Erfurt Luger tooling from Simpson to enable it to contract for only 10,000 Lugers in 9mm. The chamber date places the assembly as an example of the original military contract.
Serial number placement is in the military ("exposed") style. The serial number placed this in the middle of where Gibson reported the range of the "1936" chamber date; 4,400-7,500. An estimated 2,900 production of this variation. This is fine, well struck example. This Luger has all matching numbers.

The thumb safety is marked "Gesichert" and safe is in the down position. The extractor is marked "Geladen." The barrel is numbered and proofed and matches the frame. There are extensive LWaA 1st & 2nd acceptance proofs throughout the gun. Clean and finely struck.
Production commenced in the Suhl plant in 1934 and by the end of 1937 the 10,000 contract was completed. This completed the "Early" military contract of which this Luger is a member.
While there are very few examples known of the "G" chamber marked date (less than 50 believed produced) they are believed to be the 1935 production. The "S" dated chambers were begun in 1936, followed by the "36" and then the "1936" of which this Luger chamber date is a member.
As characteristic of the early contract Lugers, the polishing prior to bluing of these pistols was excellent and superior to the other manufacturers processes. These contract pistols were salt blued in a bath of 300°F which produced the uniform premium blue appearance.

The 1936 Dated Krieghoff is said to be produced in the 4400-7500 serial range with a maximum production of 2900 Lugers. This relative scarcity contributes to the spiraling costs of the Krieghoff over the last ten years with good examples in prime condition very difficult to find. You are seeking one of 2900 in premium condition from the battlefield of WWII. You can also see the proverbial "thumb print" characteristic of the Krieghoff finish under the rear toggle and above the lanyard loop.

Above: Krieghoff marked the inside of the side plate much like the civilian models. The serial numbers match throughout the gun and the magazine is matched to the Luger

Proof marks were extensive on the contract Krieghoffs, with both Stage I and Stage II acceptance proofs throughout the Luger. Hidden under the side plate is the Eagle 2 proof on the parts serial number.

The Eagle 2 Proofs and the last two numbers about the serial number appear in a hidden manner throughout the weapon. Under the barrel is the gauge markings along with the matching serial numbers.

Proof marks were extensive on the contract Krieghoffs, with both Stage I and Stage II acceptance proofs throughout the Luger.
There appears to be at least seven different logos that were used on the Krieghoff over the years. A very early anchor and city was followed by the sword anchor and just the city.

The one on this Luger begins in the 5,500 serial number range and is characterized by the blade being symmetrical and the "I" in Krieghoff is centered over the "S" in Suhl. The bottom of the U is slanted left to right. The left point of the anchor touches the bottom of the left leg of the "H".

Since the Krieghoff is one of the most coveted by the collectors many people attempt to "part" these guns together or convert another model to a Krieghoff. Close examination usually reveals these fakes.

Krieghoff's are the most desirable among collectors. Every collection has a basic Krieghoff and the more advanced have the "year" variations of which this is the first full year on the chamber.

H.Krieghoff are said to be the best finished Lugers. As a long established firearms manufacturer the craftsman and level of finish has always been superb making their products highly desirable. This Parabellum's bore is good and the gun does not show evidence of being excessively fired. There is very slight holster wear on the end of the muzzle and the top of the side plate raised portion and side rails. Otherwise it is in excellent + condition. See Kenyon, Lugers At Random, P-328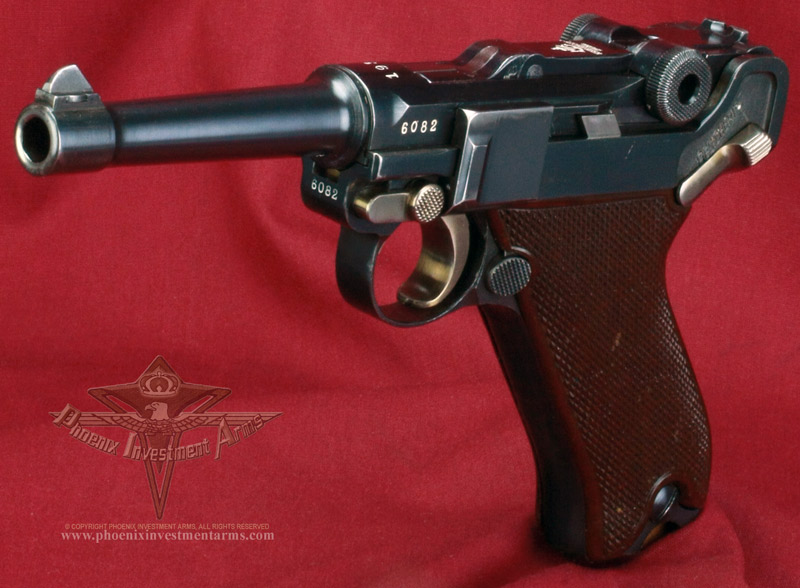 This is a very hard to find 1936 dated Krieghoff manufactured Luger in a contract of 10,000 for the German Air Force. Any questions or requests for additional information to josef@phoenixinvestmentarms.com