Archived-NOT FOR SALE
GNR Portuguese National Police Luger
PHOENIX INVESTMENT ARMS - PREMIUM COLLECTOR LUGERS
Genuine German Luger - Largest Variety of Lugers Offered
Home | Post WWI DWM | Erfurt Lugers | Mauser | Simson Suhl | Krieghoff | Vickers, Ltd | Swiss Bern | Other Guns
Bottom of Page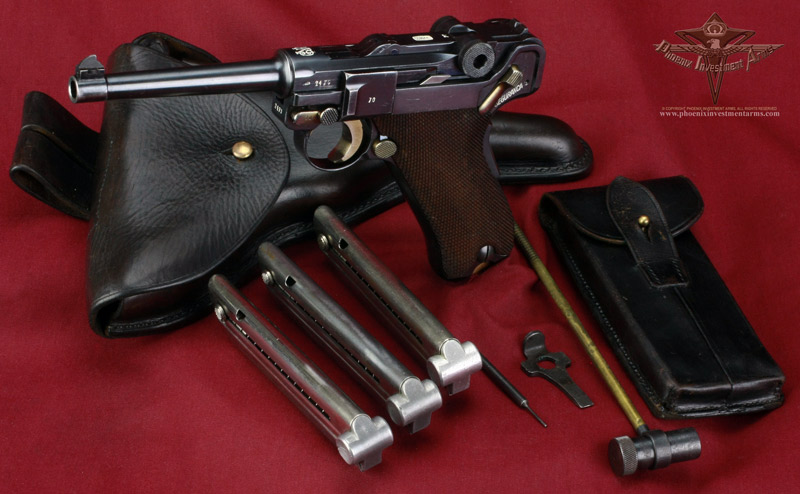 This is a 1935/06 Portuguese "Garde Nationale Republicanie" (Republic National Guard) made by Mauser under contract in 1935. With a 120mm (4 3/4") Barrel chambered for the 7.65mm. This represents a complete rig as issued with the all matching gun, three unmarked (commercial) magazines, punch, cleaning rod, two-magazine pouch and loading tool. (1112)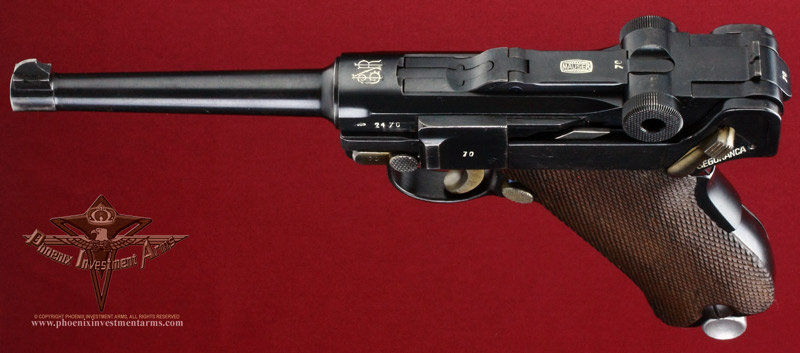 NOTE: Photographs are copyrighted, all rights reserved, any extraction, reproduction or display of gun pictures without the express consent of the Phoenix Investment Arms is strictly prohibited. Thank you for your cooperation.
A commercial Banner marked with the Crown U (Oberndorf proof) and the thumb safety marked "SEGURANCA" note 'safe up' from the old style, and the extractor is marked "CARREGADA". This is a well documented series of exactly 564 guns from 1921v through 2484v. There is a grip safety and no stock lug.

The condition of the gun excellent with the standard holster wear one would expect. The strawing and polishing is extremely good with minimal tool marking found on the war time guns and reflects the craftsmanship of the Mauser commercial guns.

The magazines are blank which is a characteristic of the Mauser Banner Commercial guns. The frame and barrel bear the serial number well within the established range for these 564 guns in this contract and represent the "v" series which was where DWM stopped when the company transferred all their machinery, parts and partially assembled guns to Mauser.
The deep blue early Mauser bluing process is evident on this gun and makes it a classic in all sense of the word. The 1906 Model with the pencil thin barrel, squeeze grip trigger and checkered toggles makes this the last of the production '06 Lugers.

The classic GNR follows the long tradition of the Chamber Marked guns from the Swiss Cross in Sunburst, the American Eagle, the Russian, Bulgarian, Serbian, Chilean, and the Portuguese Series from the Carlos I, Manual II, Royal Navy, R.P. Navy and the GNR. The Portuguese liked the Luger, The two magazine pouch bears the "AE" proof mark of he Portuguese Military - this is as good as it gets.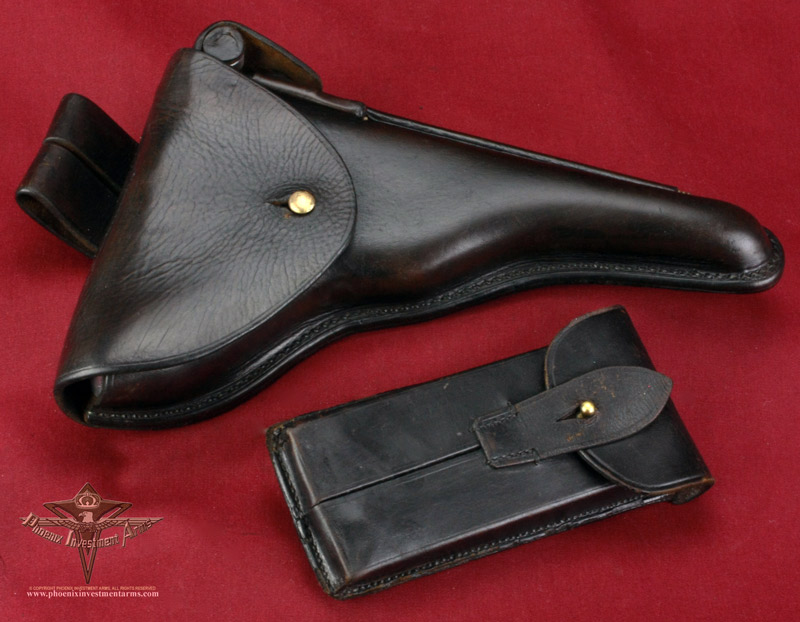 The leather is subtle and functional with all the parts intact and functional.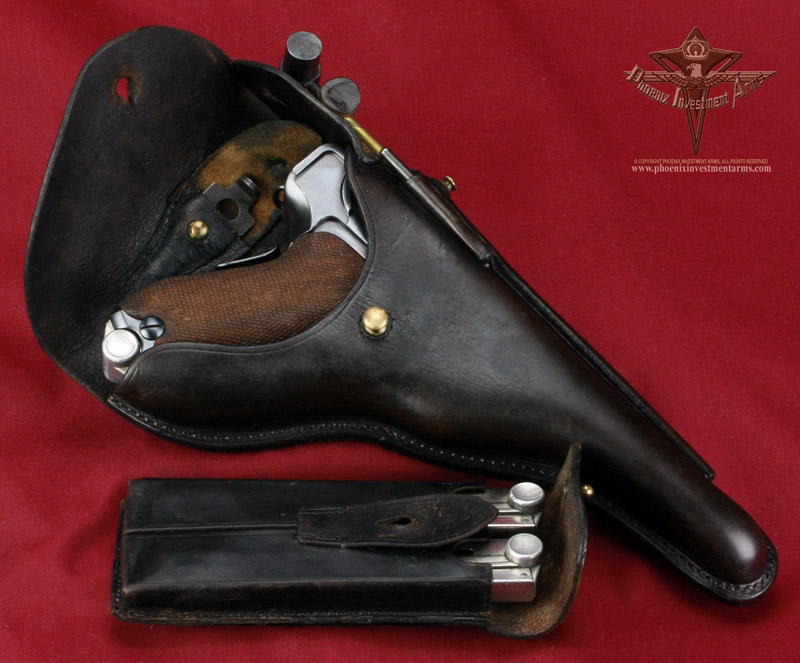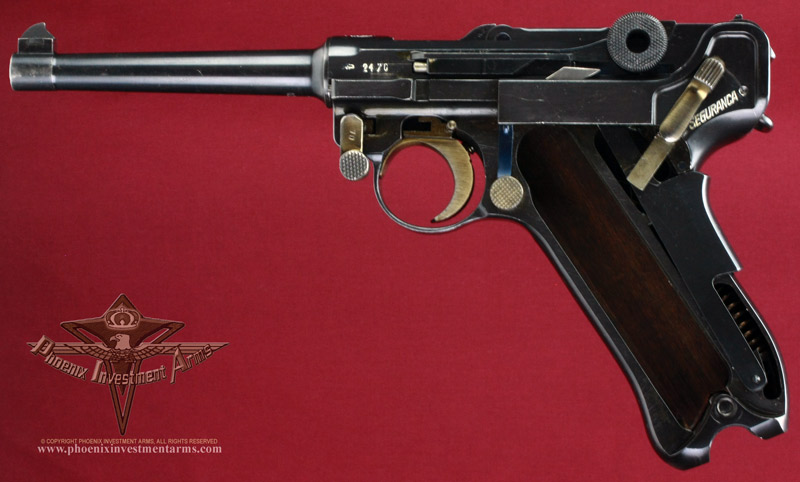 Nice and clean on the inside, a well maintained firearm with a barrel that shows distinctive lands and grooves and a shiny interior. Below is the GNR inscription and Mauser Banner. The number of lines within the Banner logo changed over the years and this is an early version of the Banner.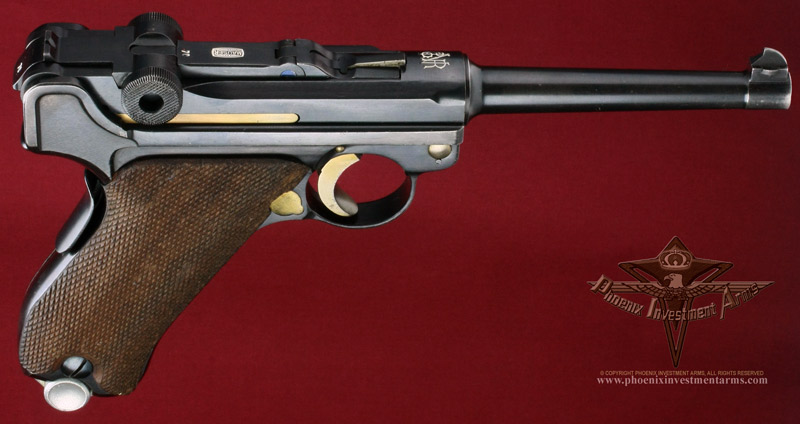 It is entirely subjective to give any Luger a rating of excellent or fine, just as it is to declare it xx% blued or strawed. Few Lugers are out of the box new and these are premium priced. Bluing percentages is like Beauty, in the eye of the beholder. We strive to provide pictures so you can judge for yourself if the gun meets your criteria.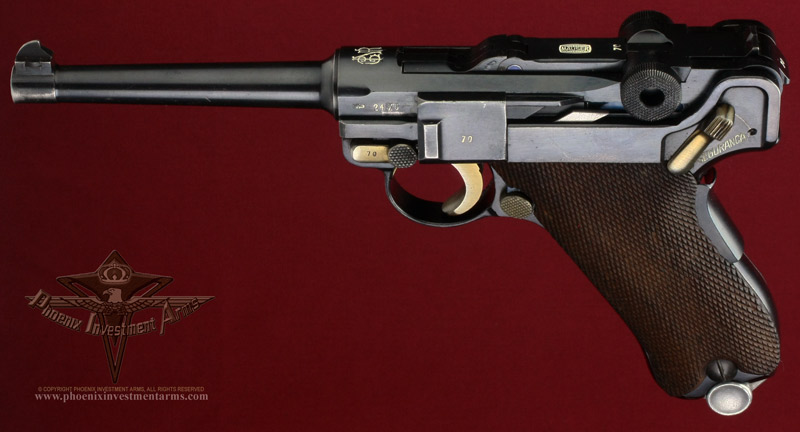 This is a remarkable complete, all matching example of the Portuguese GNR contract, one of the early Mauser Banner made from the "v' series DWM parts and frames in a very limited number. This Luger rig comes with an all matching P08, a holster, cleaning rod, punch loading tool, and a two magazine pouch with two extra matching magazines. Just a fantastic find in excellent condition. Any questions to josef@phoenixinvestmentarms.com.