Large Cased Erma .22 Cal Conversion Kit SOLD
Genuine German Luger - Largest Variety of Lugers Offered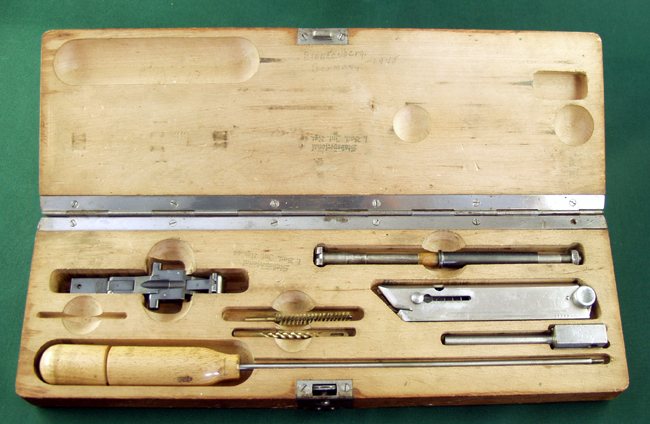 This is a excellent example of the sub-caliber training devise fitted to the Luger so that training was done with 4mm (.22 cal) instead of 9mm. This kit was made by Erma and presented in a solid wood box cut out for the components. The kit is Unit Marked for 1st Battalion of the 66th Infantry Regiment (a real hard to get proof).
Photographs are copyrighted, all rights reserved, any extraction, reproduction or display of gun pictures without the express consent of the Phoenix Investment Arms is strictly prohibited. Thank you for your cooperation.
The (left) breach assembly for the sub-caliber kit.

See Kenyon's Lugers At Random, Page 382

All the parts are serial numbered and match.

The magazine is also proofed with WaffenAmt proof and serial numbered to the rest of the kit.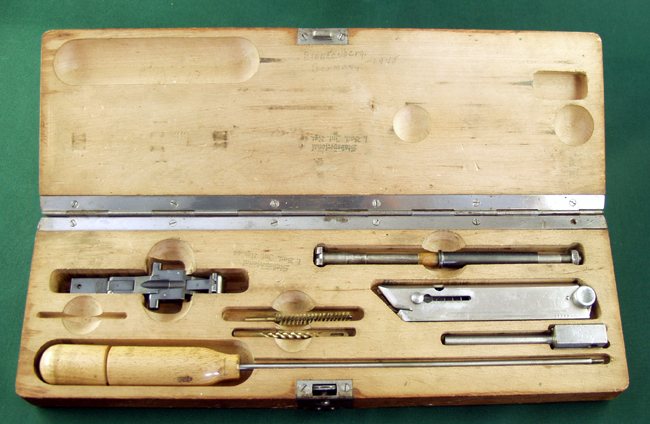 This is a complete kit and very hard to find in the large version.
LAYAWAYS: Sometimes our "significant other" doesn't understand the beauty, craftsmanship and investment potential of one of these investor grade weapons. In these circumstances where discretion becomes the better part of valor we will accept layaways of up to one year with at least 20% down and some activity occurring monthly to insure that after one year the sale is completed. Cancellations of layaways forfeit 33% if done within two months, otherwise 100%. You can transfer a layaway to a consignment sale at any time. See "Legal" for exact terms.
3 Day Return Policy
We honor a three day return policy. We will answer any questions, send you any pictures, as detailed as you want, to insure that what we are showing you is what you want to see, before you buy it. See Legal.
FIRING ANY WEAPON NEGATES ANY CHANCE OF RETURN!
WARNING: We do not represent these guns as safe to fire. They are not test fired before sale; they are sold as collectibles only. Prior to firing you should have it inspected by a qualified individual and abide by all safety requirements.
Genuine Lugers Sales - Luger History - Luger Accessories - Luger Holsters - Parabellum
© Copyright 2001-2009 Phoenix Investment Arms Inc.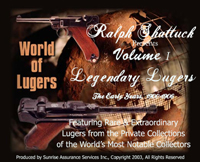 If you love Lugers, or just want to look at some rare Lugers from private collections of the world's most renowned collectors then check this out.
Over 35 Legendary Lugers, in multiple high-resolution shots depicting details you can study, over 90 pictures, close to 30 minutes of viewing time. Click below to see more.