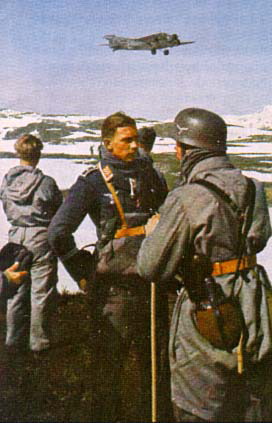 Reichmarshall Hermann Göring, as head of the Luftwaffe, formed the first parachute regiments in 1935. During the Spanish Civil War, the Germans had gained experience in air-landings, primarily using the Junkers 52. It was to be this plane that was to be the workhorse of the Fallschirjager – the German paratroopers. A Luftwaffe general, Kurt Student, was given charge of airborne training. The Parabellum was the weapon of choice.
The Germans launched what can be classed as the first airborne 'attack' on March 12th, 1938 when German paratroopers seized and captured an airfield at Wagram in Austria during the take-over of Austria. However, in the attack on Western Europe, German paratroopers were used in the attack on Norway in May 1940 when they captured air bases at Oslo and Stavanger.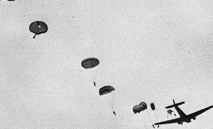 In the attack on the Netherlands, German paratroopers played a major role isolating the city of The Hague and in Belgium, they seized vital bridges and took a strategic fort at Eben Emael.
German paratroopers jump from a J-52
One year later, the Germans used paratroopers to attack Crete. This was the first time that paratroopers were given the task of attacking and defeating a complete target. At the time, it was the largest airborne attack in history. Though the island was taken after heavy fighting and the attack passed into military folklore, the Germans took very heavy casualties (25%) and Hitler lost faith in this form of attack. On the orders of Hitler, German paratroopers were sent to Russia where they fought gallantly as ground troops.