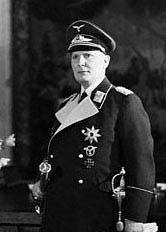 In 1934 the Luftwaffe announced it was seeking bids for military pistols. It is assumed that Krieghoff had acquired the old Erfurt Luger tooling from Simpson to enable it to contract for only 10,000 Lugers in 9mm. The chamber date places the assembly as an example of the original military contract.

Reichmarshall Hermann Göering as Commander-in-Chief of the Luftwaffe (German Air Force) was directly involved in the contract with Heinrich Krieghoff as the corporate head of Reichwerke Hermann Göering which let Luftwaffe contracts.

Göering entered the army in 1914 as an Infantry Lieutenant, before being transferred to the air force as a combat pilot. The last Commander in 1918 of the Richthofen Fighter Squadron, Göering distinguished himself as an air ace, credited with shooting down twenty-two Allied aircraft. Awarded the Pour le Merite and the Iron Cross (First Class), he ended the war as a much decorated pilot and war hero.