Contrary to popular opinion that pilots carried the Luger the principle recipient of the Krieghoff Luger was the German Paratroops (Fallschirmjäger). A Luftwaffe general, Kurt Student, was given charge of airborne training. The Parabellum was the weapon of choice.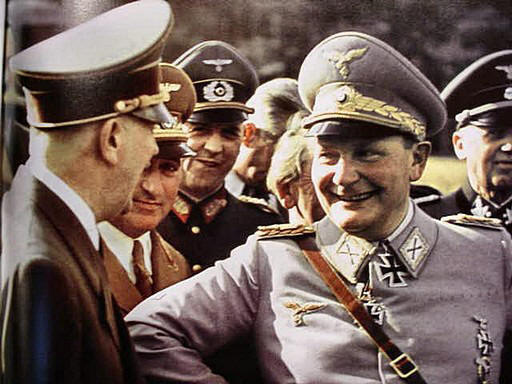 Reichsmarschall Hermann Göring became personally committed to the creation of Germany's airborne arm in the 1930s. As the Prussian Prime Minister of the Interior, he ordered the formation of a specialist police unit in 1933, the Polizeiabteilung z.b.V. Wecke, devoted to protecting Nazi party officials.
On 22 December 1933, the unit was again retitled, becoming the Landes-polizeigruppe General Göring.
The unit carried out conventional police duties for the next two years under the command of Göring's ministerial adjutant Friedrich Jakoby, but it was Göring's intention to ultimately produce a unit that would match the Reichswehr.
In the spring of 1935 (March–April) Göring transformed the Landespolizei General Göring into Germany's first dedicated airborne regiment, giving it the military designation Regiment General Göring (RGG)
The unit was incorporated into the newly-formed Luftwaffe' on October 1st of the same year and training commenced at Altengrabow.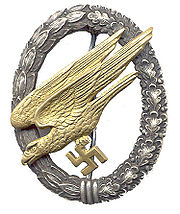 Göring also ordered that a group of volunteers be drawn for parachute training. These volunteers would form a core Fallschirmschützen Bataillon ("parachute soldiers battalion"), a cadre for future Fallschirmtruppe ("parachute troops"). In January 1936, 600 men and officers formed the 1st Jäger Battalion/RGG, commanded by Bruno Bräuer, and the 15th Engineer Company/RGG and were transferred to training area Döberitz for jump training while the rest of the regiment was sent to Altengrabow. Germany's parachute arm was officially inaugurated on 29 January 1936 with an Order of the Day calling for recruits for parachute training at the Stendal Parachute Training School located 96 km west of Berlin. After Six Qualifying jumps the parachutist was awarded the parachute badge.