1920's Abercrombie & Fitch Carbine Carrying Case SOLD
PHOENIX INVESTMENT ARMS - PREMIUM COLLECTOR LUGERS
Genuine German Luger - Largest Variety of Lugers Offered
Home | Post WWI DWM | Erfurt Lugers | Mauser | Simson Suhl | Krieghoff | Vickers | Swiss Bern | Other Guns
Bottom of Page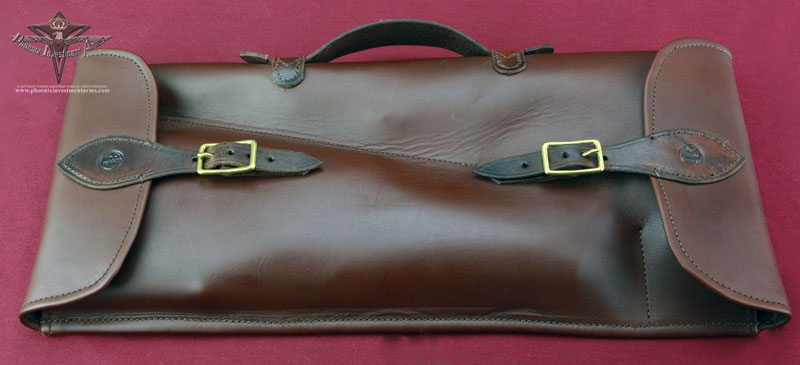 This is a 1920's style Abercrombie & Fitch leather carrying case that was sold with the Luger Carbine as a component. It is made of leather and is single stitched and lined for carrying the gun.
After WWI DWM exported the Parabellum to both North and South America in an attempt to gain a commercial market for their Lugers. In those days A & F were camping and outfitters whose stores would contain an entire mock up campsite with tents and equipment. The gentleman hunter always cared his weapon cased.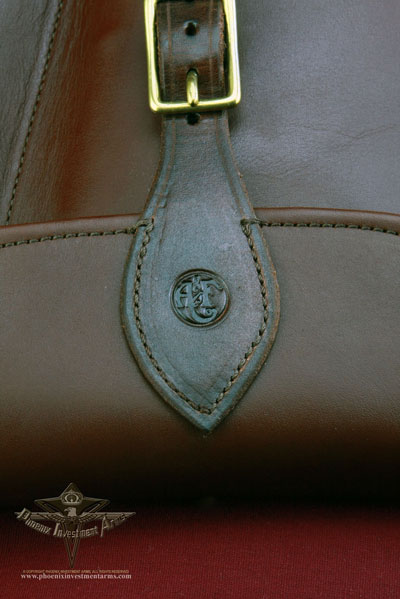 The case is 17 1/2" (44,2cm) wide and 7 5/8" (19.5cm high). The leather is case is 2mm thick with white (linen) lining. The buckle(s) are made of brass. The handle strap is stitched the case.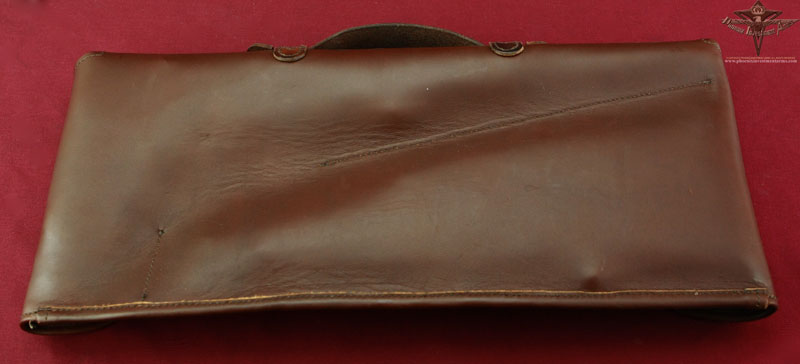 Here is the back of the case which shows the stitching that separates the gun and stock.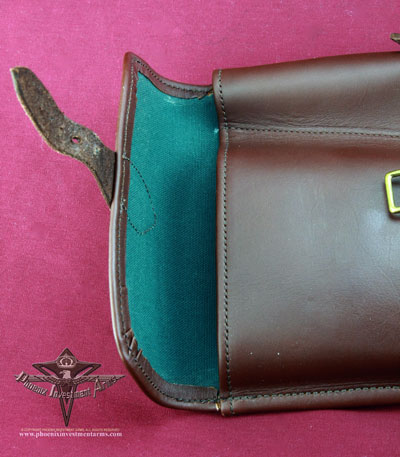 These make an excellent addition to any Military Display.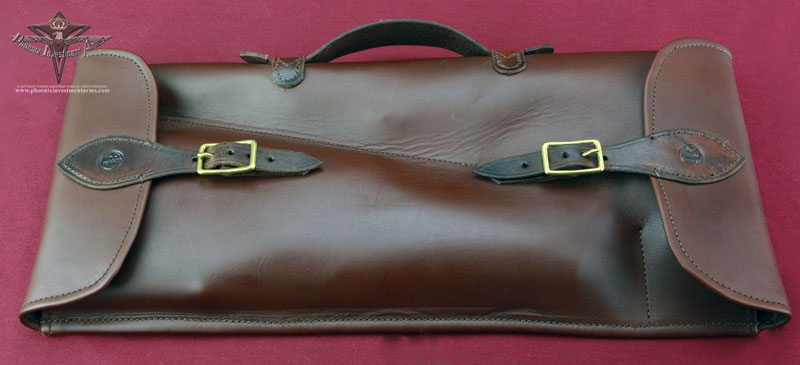 This is a unique find for the carbine collector. (Carbine not included) This carrying case offered for $600.00 over the counter. Questions to: josef@phoenixinvestmentarms.com
Home | New Additions | 1900-06 | WWI Imperial | Carbines | Artillery | Imperial Navy | Police Models | Archived Lugers | Accessories
Sell Your Gun | Notices | Good Info (C&R) | Ordering | Contact Us | Gun Shows | Legal Stuff | Testimonials | Notices | Holsters | Books
Top of Page
All items are guaranteed to be as described and shown. Unless the item is substantially different from as it is depicted in the pictures or described in the text there will be a $45 handling fee for re-logging and re-stocking.
FIRING ANY WEAPON NEGATES ANY CHANCE OF RETURN!