Phoenix Investment Arms Inc.
Genuine German Luger - Largest Variety of Lugers Offered
Home | Post WWI DWM | Erfurt Lugers | Mauser | Simson Suhl | Krieghoff | Vickers | Swiss Bern | Other Guns
Bottom of Page

The Lugers Of Ralph Shattuck Book
The Krieghoff
The Dutch Luger
World of Lugers Proof Marks
The Multi-National Luger
(*) Books, CD's & DVD's are nonreturnable.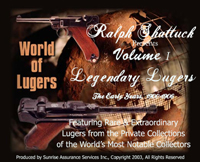 If you love Lugers, or just want to look at some rare Lugers from private collections of the world's most renowned collectors then check this out.
Over 35 Legendary Lugers, in multiple high-resolution shots depicting details you can study, over 90 pictures, close to 30 minutes of viewing time. Click below to see more.